My first trip to Kota Kinabalu - Day 3
This is the view that greeted us when we woke up the next morning. We went, 'Oh,so that's where the mountain is' haha. :P Jakuns. ;) :P Anyways,i'm definitely going back there again to climb to the top and see the view from there. :)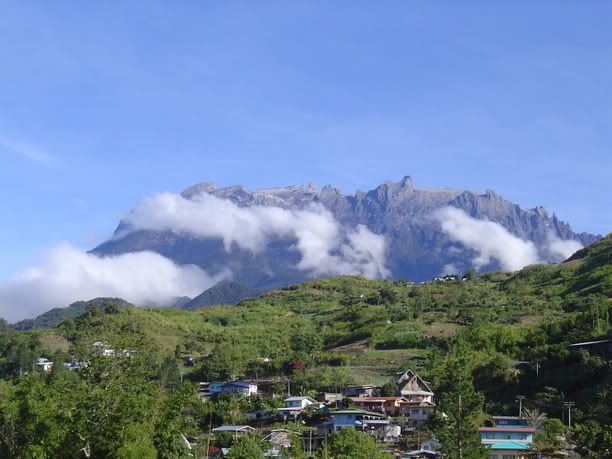 Here's another view of
Mount Kinabalu
with some clouds starting to gather around and cover it like how it was last night. :) Or maybe not...cause i think it's still too early,took this around 8am. :)
Got back to town by 10.30am, drove around a little, went over to
Sutera Harbour
for a little tour of the place cause it is said to be quite a wonderful resort in Sabah and i think i'd have to agree. :) Went back to the same restaurant during the first day for an early lunch. Had this supposed
laksa
noodles. Man,it was so mild that i had to add like 2 spoon full of their chilli to make it spicy like how a respectable
laksa
dish should be. :) Oh well,i guess every state has their own way of making
laksa
. :) It was good though after i added the extra sauce. :)
After lunch, and after dropping off Yvonne's parents at the airport cause they had to get back early to attend a wedding dinner...we made the biggest mistake in going to one of the few shopping complexes in town. I think i caught this at Centre Point Mall. It was not good. Maybe cause we went during the Hari Raya weekend or not..but I'm sorry but definitely don't go to
Kota Kinabalu
for shopping unless its at the
Handicraft Centre
aka Filipino Market opposite Sinsuran Complex. Anyways,lets get back to this little signboard. I'm sure there's a better way to word this. :) If there wasn't the malay words at the bottom,i might not be able to understand what's the reason for this signboard. :D Anybody care to translate the chinese characters there. :) Oh,the malay words are 'Becareful of cars coming from the left' hence the english words, 'To merge like a zip'. Oh well. :) Good for a laugh,that's for sure. :)
L-R : Jonathan, Yvonne, Nelson, me Since the
Handicraft Centre
aka Filipino Market wasn't open...we went driving around town and stumbled upon this place called,
Borneo 1945 Museum Kopitiam
. Turns out, this place is pretty famous. :D They don't have a website up yet but it seems it's on the list of things to get done. :) So keep your eyes out for this place. A definite must-visit if you come to
Kota Kinabalu
. For now,if you want more information about this place, check out
Borneo Backpackers
, which is situated just above the kopitiam. :)
Interesting wooden plaque with the menu stuck to it. :) Quite a few items on the menu that you really wouldn't want to miss. :) So when you come here,bring an empty stomach, huge appetite for food and also for the history. You won't leave empty-handed nor with an unsatisfied stomach. :D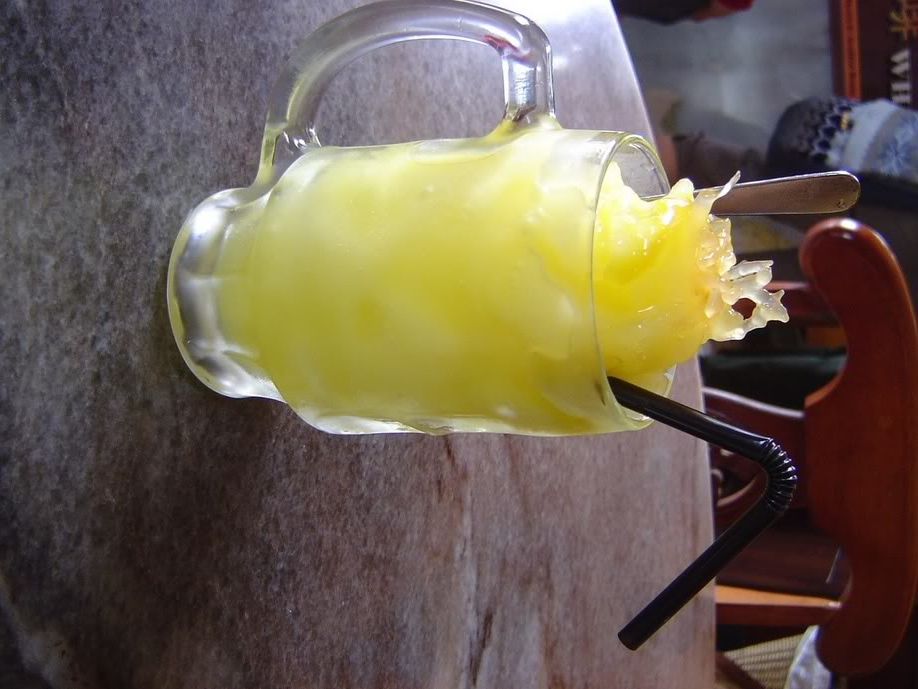 Yummy ice-blended mango. Tasty, and better than a lot of the so-called ice-blended from other kopitiams or cafes in Klang Valley. :)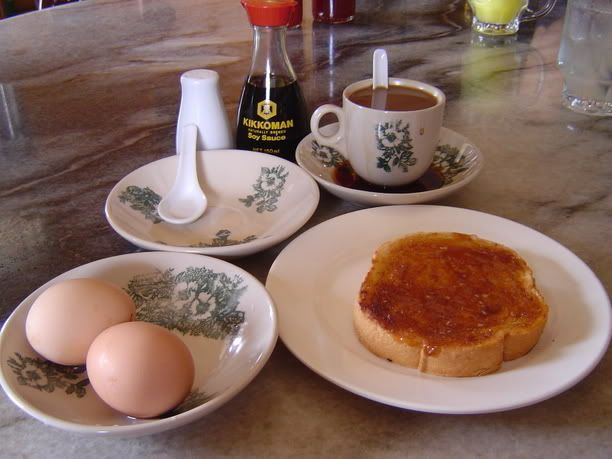 Here's the cafe's signature meal. :) The 'Kopitiam Special', which includes 2 half-boil eggs, a charcoal toasted bread and their kopitiam special brew coffee. :) It was great. :D The eggs were just right and the charcoal toasted bread,great combo with the eggs and the delicious coffee made by this elderly uncle. :) People,you definitely have to check this place out when you're in
Kota Kinabalu
,cause if the uncle didn't pass on his skills to the next generation...you might not be able to get such delicious coffee anymore. Not that anythings gonna happen to the uncle soon, touch wood but everything has it's time...and he does look quite elderly but he was really helpful. :D God bless his soul. :)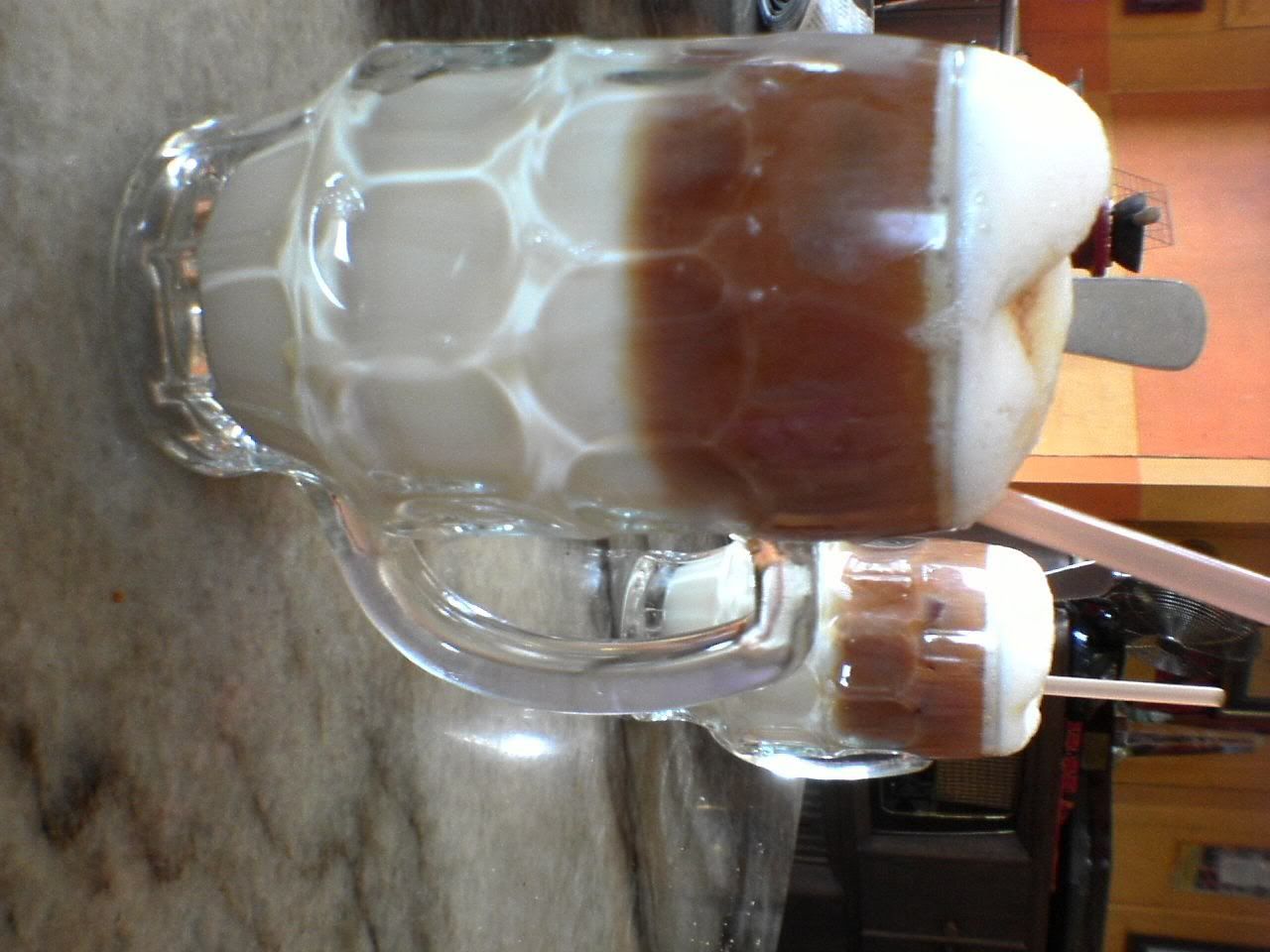 We were such gluttons...we got to this place just an hour after lunch and i had the Kopitiam Special, Jonathan had french fries and fried nuggets and Nelson and Yvonne had coffee and their lime based drinks. Oh well,we're on holiday so we can indulge ourselves. ;) :P So we ordered this Madras Tea to go with our anzac biscuits. Let me tell you,it was heaven! ;) Never had i tasted such delicious tea. Just look at it, ok...so i've not been around the world yet and i might not have tasted everything but among all the stuffs i've tasted so far...this is just heavenly! :) Another must-try when you visit
Kota Kinabalu
and the
Borneo 1945 Museum Kopitiam
.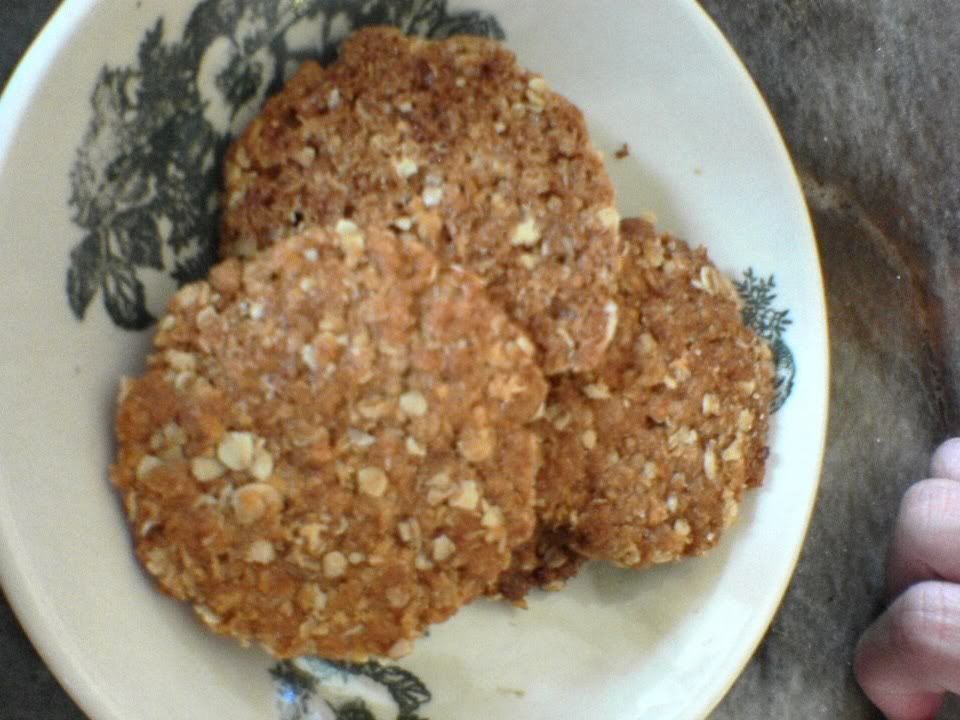 Here's the yummy anzac biscuits that we had with the Madras tea. :) We loved it so much that we bought them as gift to bring home. :)
We practically bought all that they had to offer to us. ;) 5 packs of 100g and 1 pack or 200g. :D I'm still having it kept in a air-tight container,not willing to eat it yet...only occasionally opening it to smell it. ;) :P haha..crazy,ei. :P Soon, soon...i will gobble it all down. :) Wonder if you can find them here in Klang Valley.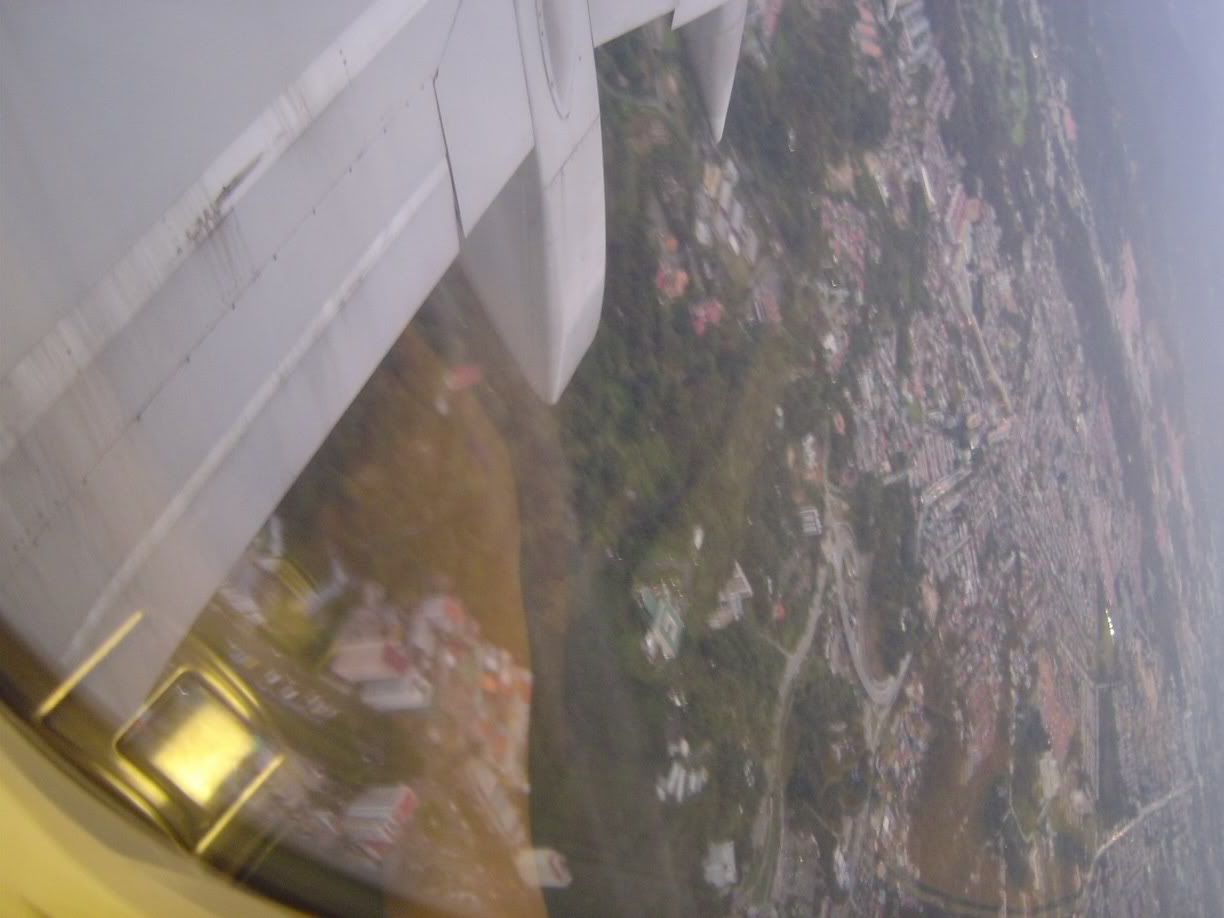 Got on the plane for our 5pm flight home to KL, just in time for our Christmas practice in church. Yes,we had to rush from the airport, landing at 7.40pm when practice starts at 8pm. Good bye,
Kota Kinabalu
...thank you for the lovely experience. Definitely gonna come back for another visit and a shot at
Mount Kinabalu
. :)
We were definitely all tired from all the travelling and stuffs but still had to go for practice cause Christmas is coming soon and we need all the practice we can get. :) The view was pretty good from where i sat. :) Doing a bit of advertising for
AirAsia
here...haha. :D Well,they do offer really cheap tickets to get around the South East Asia area. :)
Got back finally, and rushing to get to church for practice...we were late already cause by the time we got out of the terminal and into the cab, it was 8.20pm. Well,we were also getting dinner from
DeliFrance
. :) Had the ciabata bread [above] with black pepper chicken. Should have just went with the ham or turkey but the bread was soft was quite good. :) Maybe it was good because we were tired and didn't really bother about it. :) Oh well,that ended my first trip over the
South China Sea
and to
Kota Kinabalu
. 3 days is definitely not enough to explore all that
Sabah
has to offer.