Bali in Puchong?
Yup, Bumbu Bali's the name. :) Quite a nice restaurant in Puchong, a bit pricy but it's all good. :) Went over there for dinner with
Ethan
,
Val
, Joseph,
Lay Yan
, James, Christina and Shane before going over to James' place again for movie. :) This time we watched
Moulin Rouge
. It's suppose to be a romantic drama musical but I have to say the amount of songs that they spoof was enough to make me categorize it as a comedy as well. :P Ok, fine...so the movie ended on a sad note but it's quite funny. haha. :P If you have not watched it, go check it out and see if you can recognize the songs that they spoof in the movie. :D
Decorated with loads of Bali inspired umbrellas, tables and stuffs. :) Worth a visit once and awhile. They even offer western food as well on top of their eastern fare.
This cinnammon chocolate drink was quite nice, according to Ethan. Maybe I'll try this the next round. :)
But seeing that they offer
orangina
which is pretty difficult to come by nowadays, I ordered it. :) Love this drink...I still remember when I was young, this was on sale almost everywhere but now, can't really find them anymore. I wonder why. :)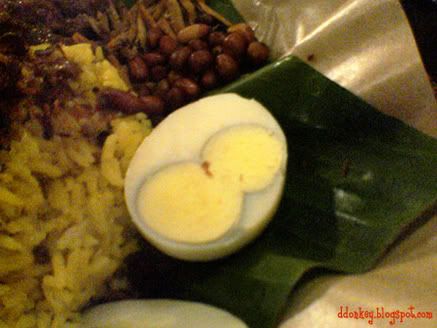 Now this is interesting. ;) Haven't seen an egg with almost 2 egg yokes. Cool,huh?
Simply salad with grilled chicken but the spicy sauce was wonderful! :) One word of advice,just don't over do the sauce on the salad. :D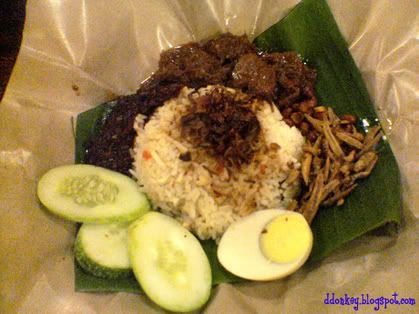 One of the few really tasty beef rendang around town. :) Not too tough and chewy, just nice. The sambal is pretty good too, maybe not spicy enough but guess that's ok. It looks like nasi lemak but it's not and you can choose between white or yellow rice. Writing about it makes me wanna go back there tonight for dinner. haha. :P
This is just mouth-watering delicious! :) Quite pricy at RM29 but it has chicken, calamari, fish, some chicken on a stick thing, and erm...white or yellow rice. Might be a bit difficult to finish by one person but maybe if you're really hungry you could. :) The fish was done really well, really really tasty. Lay Yan ordered the chicken/lamb combo and the lamb was great! So if spicy rice and stuffs isn't your thing, there's still some yummy western food to choose from. :) Man,this is really making me hungry! :P