Penang Village in Sri Hartamas.
First visit to this more classy restaurant for local Penang food. Was around the area with LM looking around for
Borneo Ink
. Anyways, I think the prices at this place can be compared to
Madam Kwan's
but I think I enjoy eating at
Madam Kwan's
more. :)
Pretty simple menu but loads of photos to entice you to order more. haha. :P
Pretty interesting cup to serve me my iced lemon tea. :) I wonder if you can find this type of cups in Malaysia.
The Penang curry noodles. Pretty standard I guess. Didn't really try it, wasn't in the mood for noodles. :)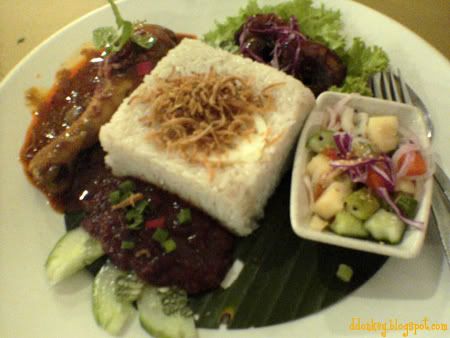 I think I should slow down with the 'Nasi Lemak's. :P Been having that almost all the time. ;) By far the only 'nasi lemak' that I've had that came with prawns on the side. :) Pretty standard too and I think
Madam Kwan's
'nasi lemak' is better. We also had 'ma pou tofu' but that was pretty plain looking and tasting too...I wonder why people say that this place is good? I can think of quite a few other places within the same price range that's much better than
Penang Village
. :) Oh well...now I know.