Let's go makan-makan.
Makan = eat in malay. :) Went up to
Penang
with Dax and Evelyn last Sunday for a little getaway. :) Yes,i was the chaperone for the engaged couple. Or a 'spotlight' [third wheel] to simply put it. haha. We had alot of fun, eating and swimming and me checking out all the hot chics in
Penang
. Man, i have to say...compared to Klang Valley, i spotted more pretty girls in
Penang
. ;) Definitely going back there again when i have the chance. :P Sigh,i didn't really want to leave Penang yesterday, hoping to stay another day. ;) Had to get back by yesterday evening because of the
Bible College of Malaysia[BCM]
night class taught by
Pastor Ng Wah Lok
that Evelyn, Donald, Queen of the World, Andrew and i are taking. If we found out about our day off next week..we would have went next week! ;) Oh well,there'll be other food trips to come. haha. :P So here's some photos from the trip. :) This is gonna be a long photo-post...so brace yourself. :D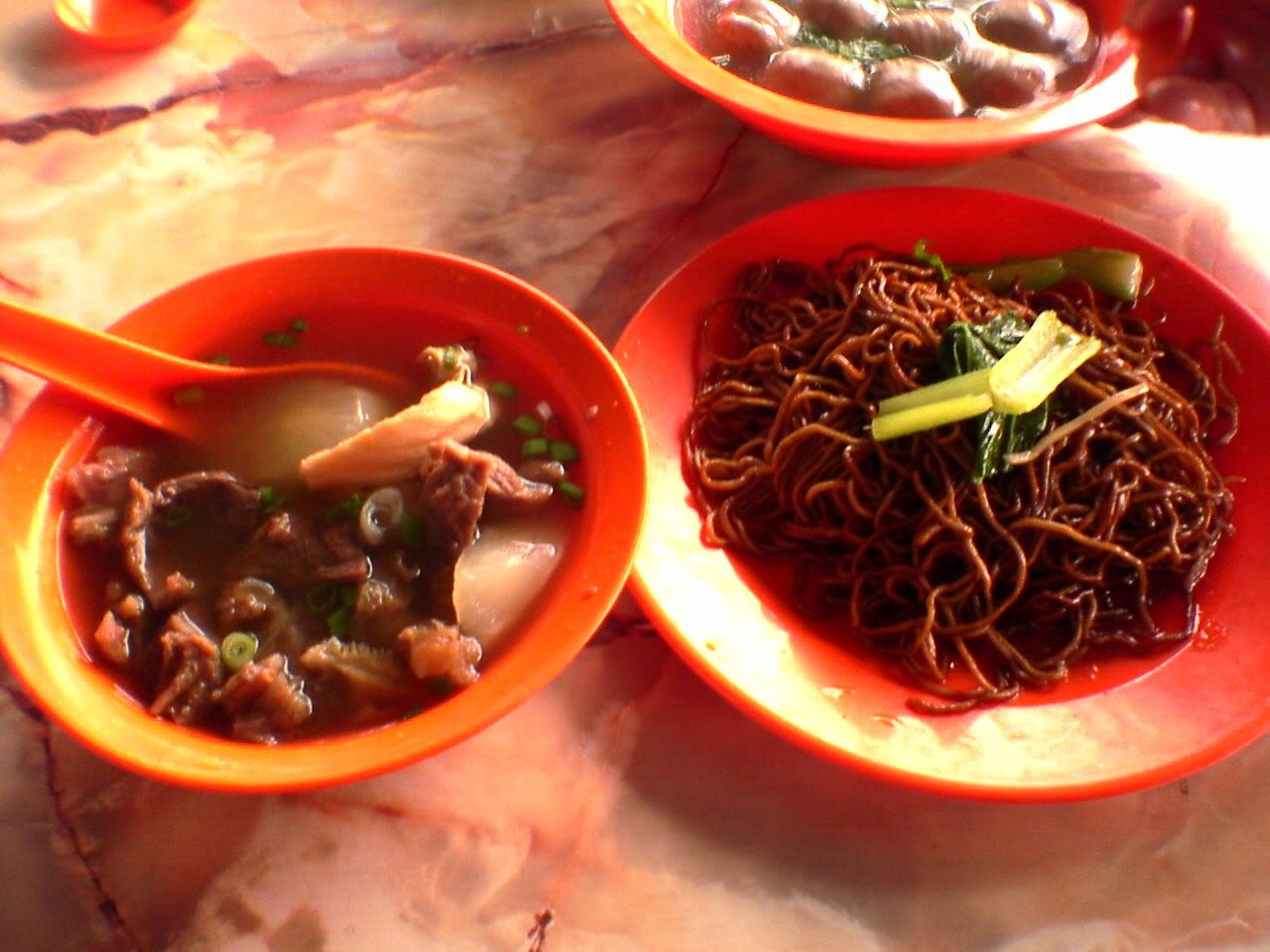 Started off the trip by stopping at Kampar for some beef noodles. :D Yummy. Think its better than the Ngau Kee beef noodles in Jalan Alor. The soup is much tastier maybe because of the turnip that they put into the soup. :)
Pork balls..which was a good addition to the fish balls and the beef noodles. haha. ;) What a way to start the food trip ei. ;) Was suppose to stop at Ipoh for the beansprout chicken but didn't have time cause we had to get up to Penang to check into out hotel before 9pm. ;)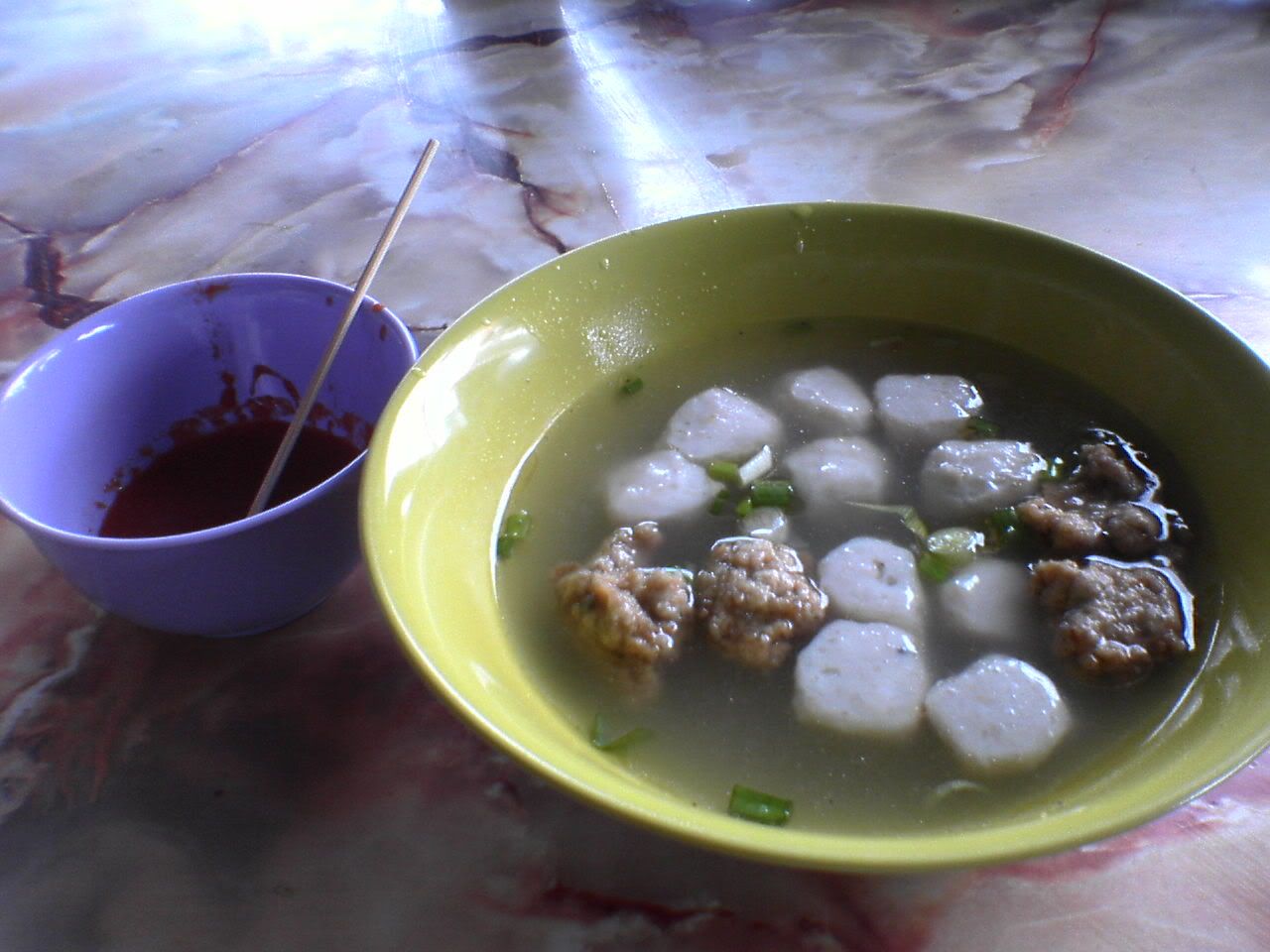 Fish balls sold by the stall next to the beef noodles. Can be found at the row of food stalls near the old bus station in Kampar. :)
So we got into
The Gurney Hotel
around 10pm, dropped our stuffs and went out for supper. haha. ;) Yummy char koay teow at the wet market in Pulau Tikus. Really good...they even had sotong [squid] in the dish.
After that, went over to Gurney Drive to look for muar chee but because of the rain, almost all the stalls were closed but we found this stall that sells fried chicken skin. Yes,you heard it chicken SKIN. :P they even have bishop's nose [chicken backside] but didn't see it there. haha,man..Chinese really can eat anything and everything. :P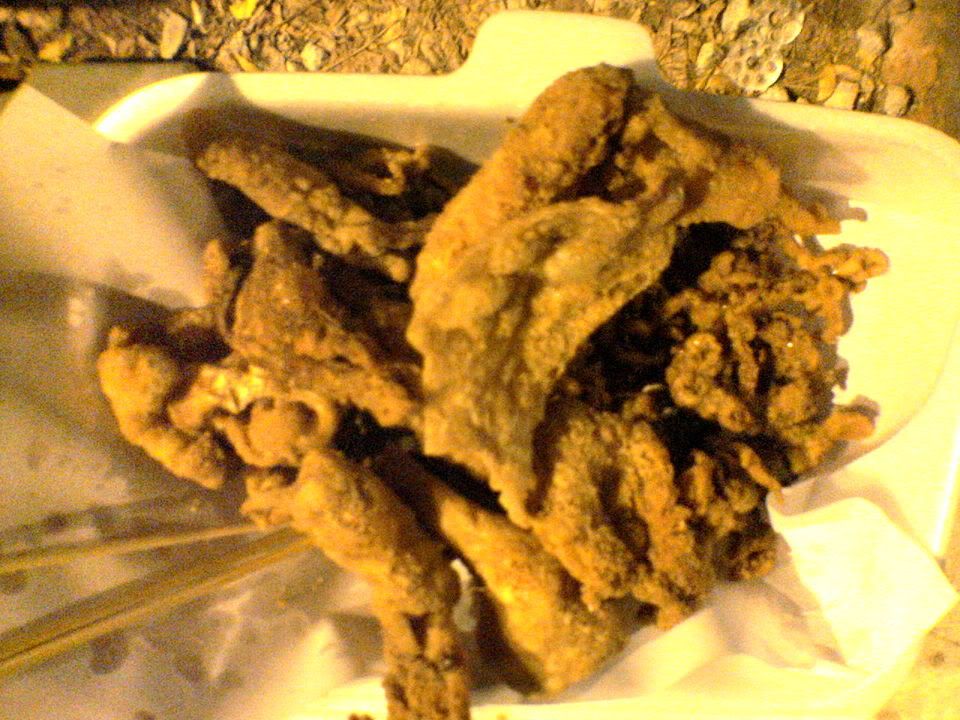 But it was really yummy lar...don't tell me about how unhealthy it is cause i know but it was really tasty. haha, like eating
KFC [Kentucky Fried Chicken]
but without the meat. haha. ;)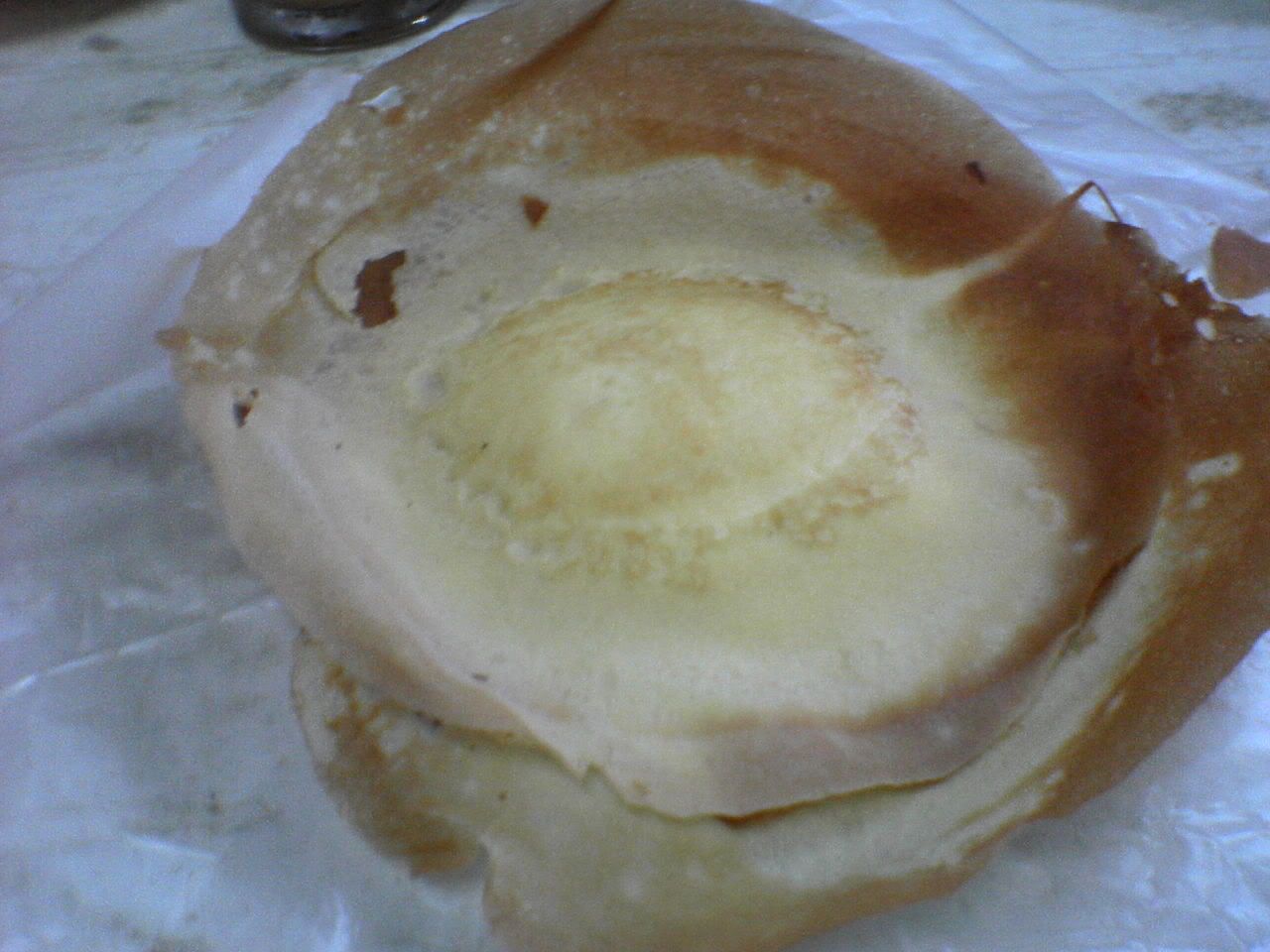 Next morning, went looking for this stall that sells char koay teow but with a twist near Jelutong. :) They use duck eggs instead of chicken eggs but as luck would have it. It wasn't open because there was a Chinese funeral service going on in the restaurant itself. First time,i've ever seen such a thing. :) So i guess the next round i go back there..i'll definitely go check out the dish. So we went to the restaurant on the other end of the row and got this Apam telur. Yummy. ;)
Had this wanton noodles cause there wasn't much choices there..too bad lar. ;) but alot of people ordered this so it was oklar...might say that its on the bottom of the list of good food we had on this trip. :)
Then we did lunch with Celine and Nigel who was there while Andrew was out busy meeting clients. :) So we went for Nasi Kandar. Funny name, ain't it? ;) According to Dax, usually there's a long line during lunchtime...haha..ironic restaurant name huh. haha. ;)
The crowd was just starting to come in...thankfully,they came in after we were done. :P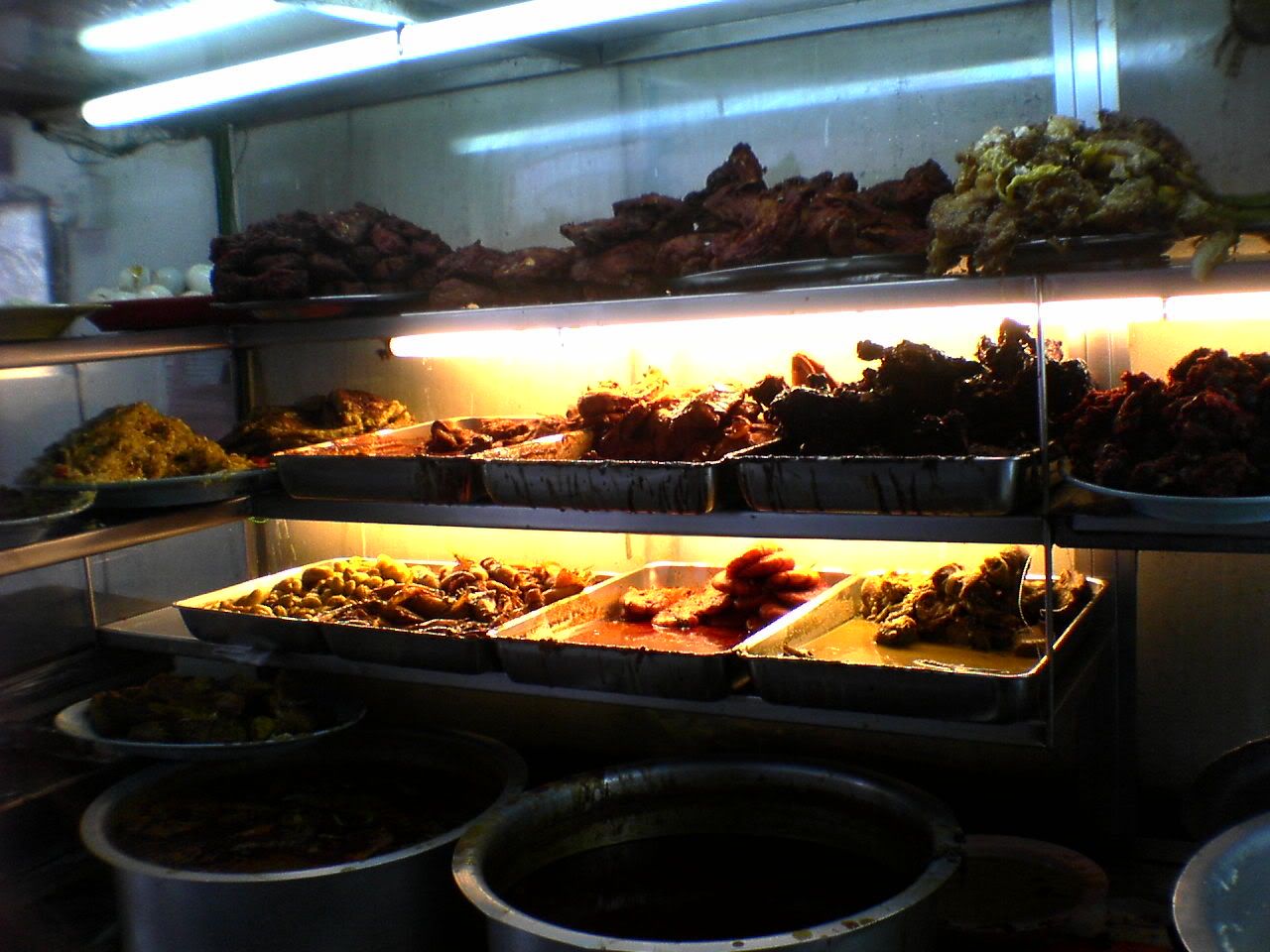 Alot of selections of food. :) All of them looked good and it isn't really that expensive compared to the nasi kandar we find in Klang Valley. :)
So got myself some vegetables, fried egg and a good fried chicken drumstick with all the curry sauce mixed into the rice. Got half a piece of mutton from Dax. Really good. :)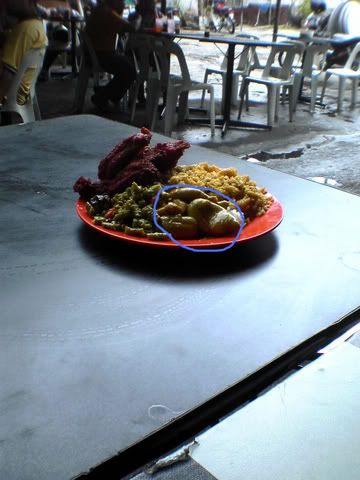 That item that i've circled are sotong eggs [squid roe]. Never seen them, never tasted them nor will i try. ;) Looks abit the weird. haha. :)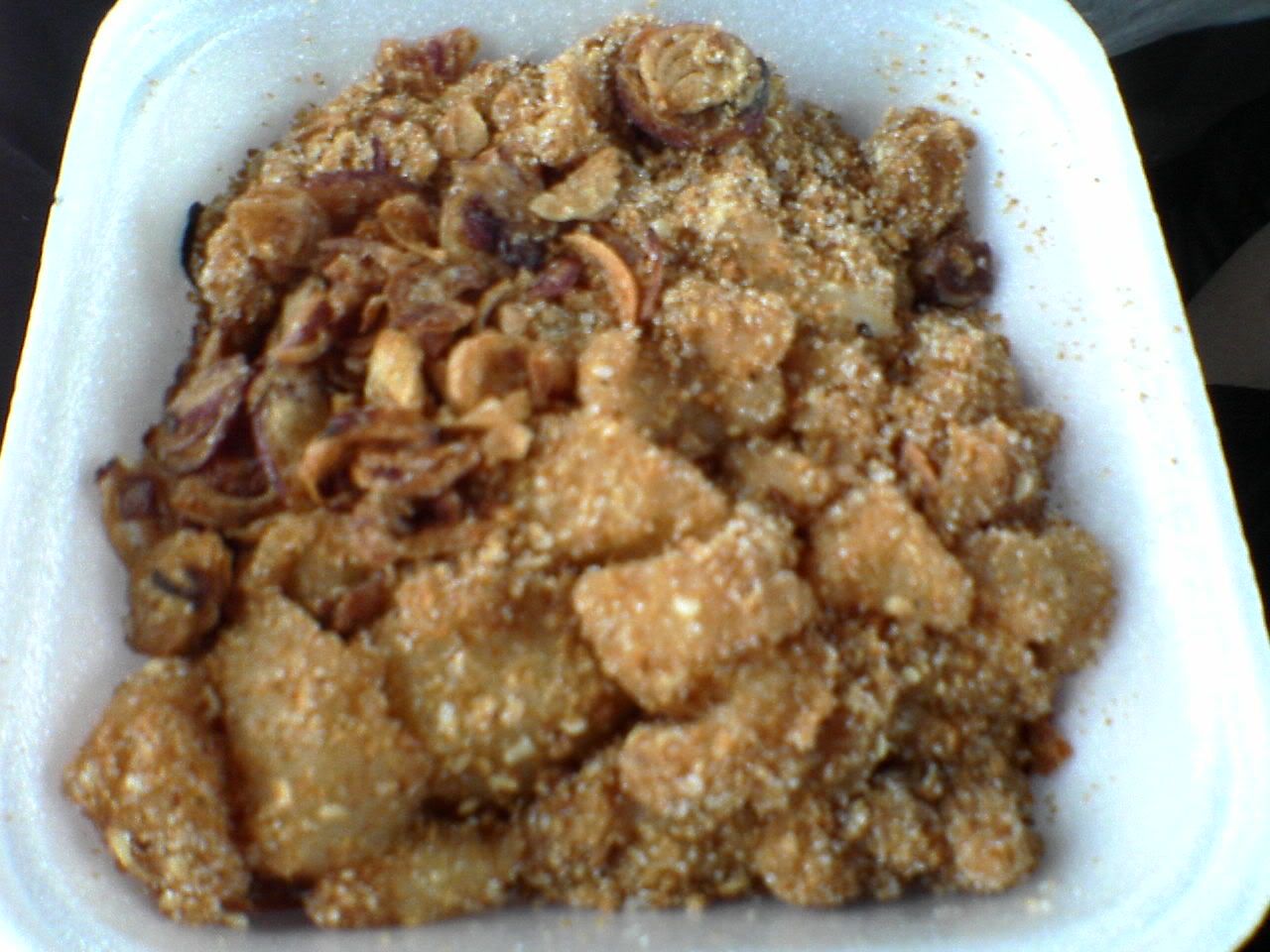 Finally got the muar chee from Gurney Drive for tea. ;) Really good...they even put in fried onions with it. Great combo. ;)
Went over to
Teluk Bahang
's streach of beach for some photos and i wanted to fly my kite which i bought when i came up here with Li Mei and Tze Wan 2 years ago. ;) That was how high my kite went...mostly because the rain was coming close and alot of wind blowing. :)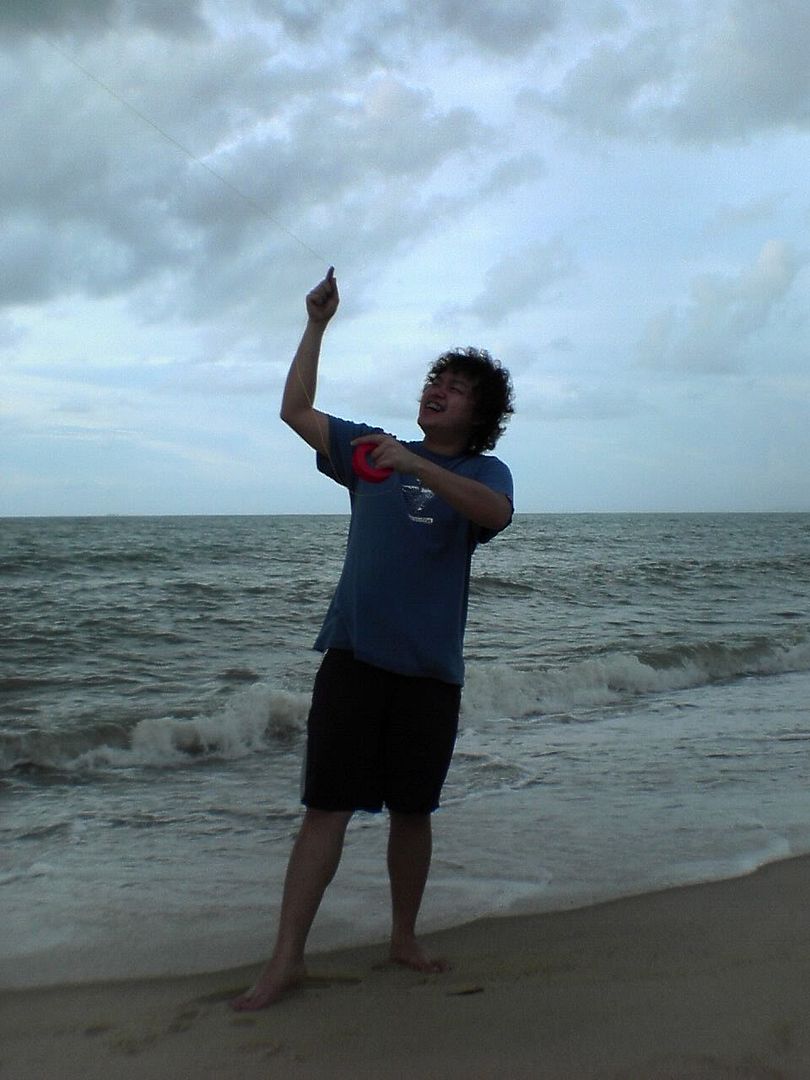 That's how a city slicker who never flew a kite before looks like..haha. Can't help it, i never was into such things when i was little. :D Didn't get the chance so now trying to relive those lost childhood moments of mine. haha. :D
It was a wonderful evening...would have been better if the rain didnt pass and blocked out the sun..was kinda hoping to get burnt a little cause i'm getting less tan. :P
For dinner, we had hoi chen [oysters fried with eggs] which we wanted to have the first night but it was closed. ;) Ain't much of an oyster lover but this is good..don't think you can find so much oysters on one dish in Klang Valley.
Also had this yin yeong without eggs. Interesting...cause i usually have eggs with mine but this was interesting lar...they had char siew [pork] in it. :D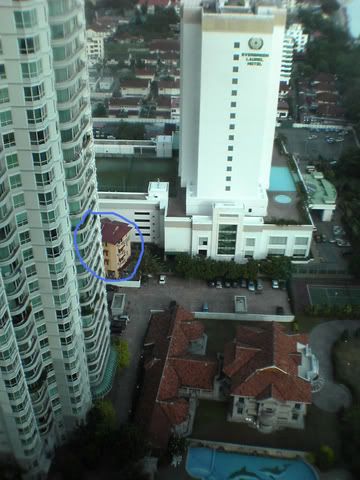 Last day in Penang and i looked out the room and saw this little building overshadowed by the other huge buildings around it. haha. :)
Had the famous 2 sisters' char koay teow for breakfast. Hopefully, they will pass on their skills and recipe to the next generation so that we'll all be able to have their yummy char koay teow.
Interesting shop...has alot of 'DO NOT' signs around telling their customers what NOT to do..haha. ;)
Finally had my lobak which i was craving/looking for the entire trip. ;)
The famous 2 sisters char koay teow. Was nice but i prefer the char koay teow we had for supper on the first night in Pulau Tikus. :)
Penang style otak-otak. Yummy to say the least...think it taste quite similar to the Melaka style otak-otak. :) Dax and Evelyn bought like 40 packs of them to bring home. haha. ;)
So to end the trip, we left Penang and went over to Bukit Tambun for seafood...wanted to try this restaurant but it was closed so we had to resort this only restaurant that was open, How Kee. Only vegetable dish on our list. ;)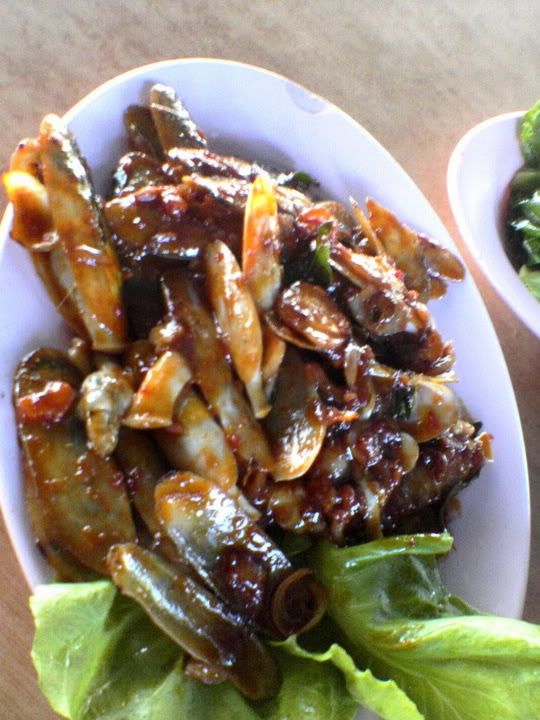 Had bamboo lala as well...dunno what is it called in english but its good. :D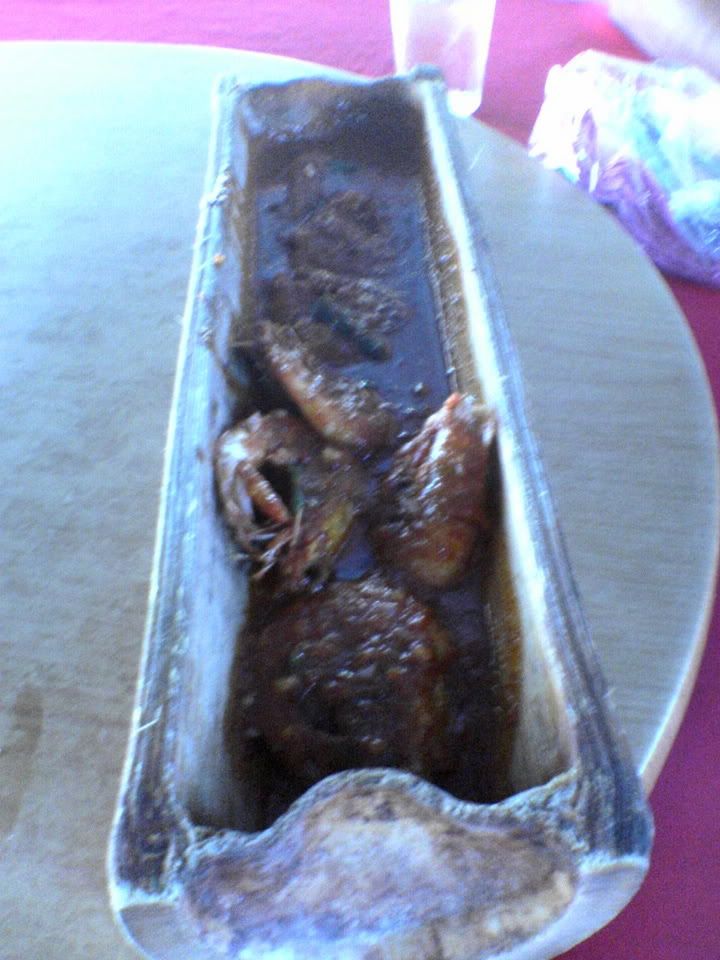 Bamboo prawns. :D Yummy dish...the sauce was really good...would have licked the bamboo shoot but it looks like they reuse the bamboo so didn't do it. haha. ;)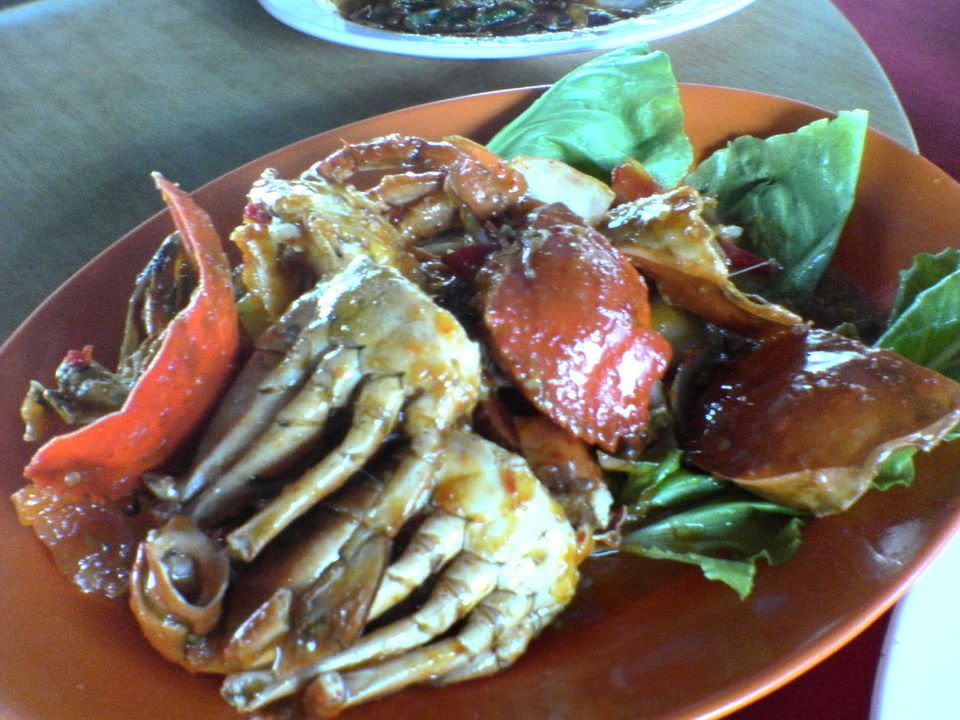 Sweet and sour crabs. :) Yummy...didn't take a photo of the dumplings we ordered cause i was just too busy enjoying my food. haha. ;) What a way to end the trip, with seafood. :D Not too bad lar..about RM50 for a seafood lunch for 3 people. :) The only thing that we missed out on this trip was assam laksa and prawn noodles. :) Guess we'll just have to come back again to cover those items. :D And more muar chee.. haha. ;) In total, we spent RM140 just on food for the 3D/2N for 3 people. Not too bad, ei? :) Man,i miss that place already...anybody going up there any time soon and don't mind me tagging along? ;)