My first Kota Kinbalu trip - Day 1
Ok,brace yourselves for another long post and this time its about my recent
Kota Kinabalu
trip i took with Nelson, Yvonne and her family during the Hari Raya weekend. :) It was wonderful even though it was just 3 days. Definitely am going back there soon to conquer Mount Kinabalu. :D That is if i'll be disciplined enough to get myself back into shape. ;) But if you've not been to
Kota Kinabalu
then it deserves a spot on your vacation list. :)
Had this crap-of-a-burger from
Burger King
in
KLIA
. Mushroom Swiss is still my favorite burger from
Burger King
but this was pathetic.
AirAsia
plane that's taking us to
Kota Kinabalu
. 2 1/2 hours worth of flying time just to get there. Add another 1/2 hour and i would be in
Bali
...ah,what a wonderful wishful thought. ;)
This one really cracked me up. ;) Think its suppose to be a area where you can keep your luggage. Isn't there a better way to term it?
A view from the hotel we were staying in,
Kinabalu Daya Hotel
. Nice place to bunk in but i think
Borneo BackPackers
has a pretty good rate for people on a budget. :) Worth checking out.
Koay Teow soup with wanton and pork ball for lunch at 2pm. :) Was kinda hoping for some really good food in
Kota Kinabalu
but didn't find any
I'm sorry to have made that remark. :) I've gotten quite a earful from the KKians i've met and it seems there is alot of places with good food in KK town itself. ;) So my fault,should have gotten my facts right first. :) So now i know,i'll make sure i ask the right people about where to find good food. :D Will check with
JulieTheBiscuit
for her eating haunts before going over or the other wonderful people that was nice enough to point out my mistake. :D The next time i visit Sabah,i'm sure it'll be better. :)
Off to
Manukan Island
after lunch around 3pm with Jonathan and his dad while Nelson and Yvonne went shopping/scouting
Kota Kinabalu
town. :)
Manukan Island
is the one on the right,
Mamutik
in the middle and
Sulug
on the left i think. :)
Manukan
was ok, but if you've been to the East Coast islands such as
Lang Tengah
or
Redang
...
Manukan
isn't really that great compared to the other islands i've been to. The water's muddy and visibility isn't that good but then again it's just 20 minutes off the mainland so i guess it's expected. Or maybe i should have visited
Sapi Island
or
Gaya Island
instead. Even though that, i think
Manukan
is quite good for a day trip. :)
Went over to SEDCO Square just behind the GSC Cinema for dinner. Was looking for seafood and SEDCO Square came recommended but the price is almost the same like eating in PJ. Was kinda hoping for prices like in Klang or something. But it was an experience. :)
Fresh fish in tanks. :D Love coming to seafood restaurants like this..at least you get to choose your meals. :) Maybe that's why the price is at par with the seafood restaurants in Klang Valley. :)
Lai Liu Ha...some type of prawn. It was interesting to see them all in individual bottle. :) I wonder why. ;)
*slurp* Lobsters but it cost RM200 for one...it was out of the list. Sigh,was kinda hoping for some lobsters. ;) :P
A view of the tanks with the fresh seafood in them. :) Yum,yum. :D
There were other stalls beside the seafood restaurant so it's pretty good to have more selections. :) Oh by the way,i just found out from the lady that sapi means beef. :) Interesting. :) Kambing = goat/lamb. Ayam = chicken. Pretty cheap, RM0.40 per stick. I think now in Klang Valley it's like RM0.80 per stick. :)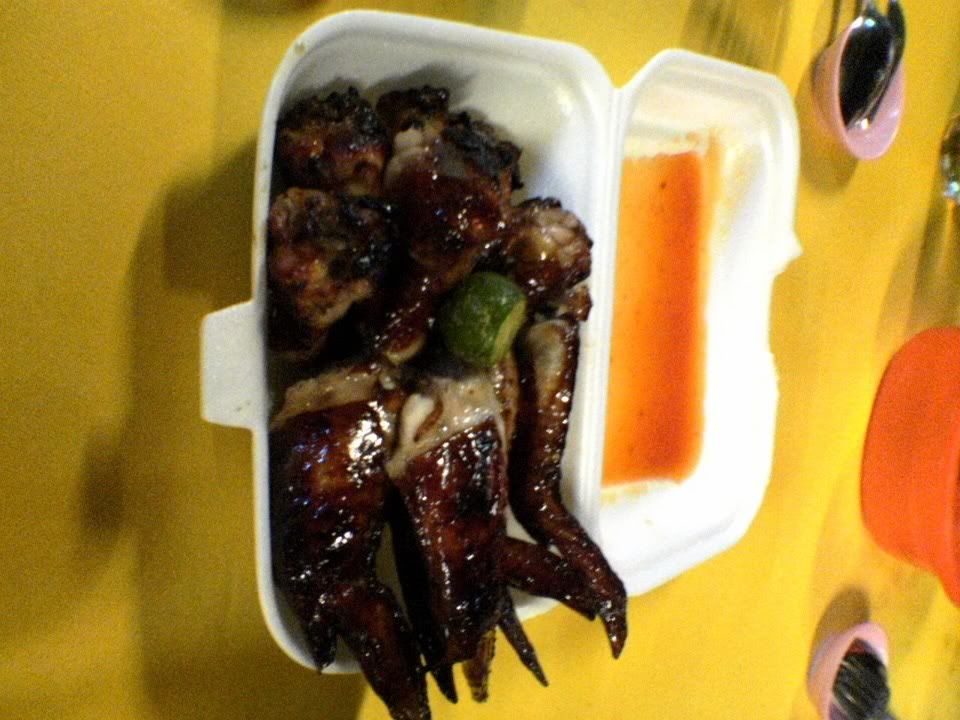 Yummy delicious BBQ chicken while waiting for our dinner to arrive. :) But it can't beat the
Jalan Imbi BBQ chicken
. hehe. :D
Had satay too while waiting for dinner. Quite good, not too chewy. But this wasn't the reason we were sitting there. :P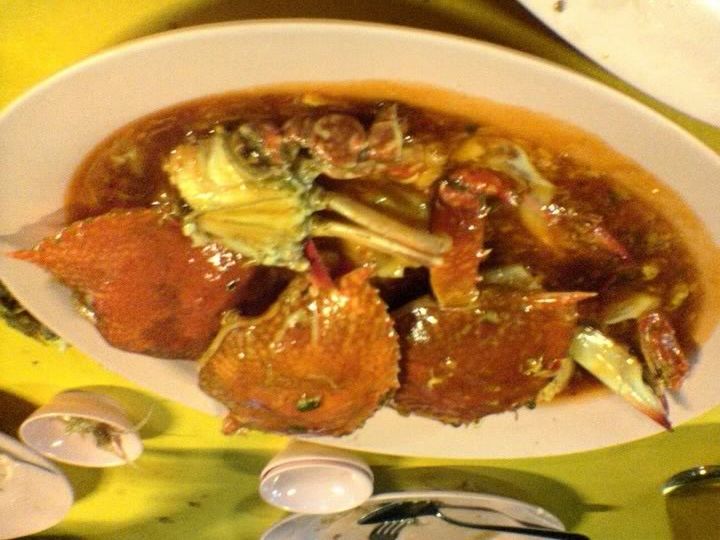 Fresh, delicious crab in sweet and sour sauce. If only they provided bread/mantou to go with the dish. :)
Doesn't it look so good to eat? ;) :P It wasn't difficult to get pass the shell and to the meat. :) Just nice. :D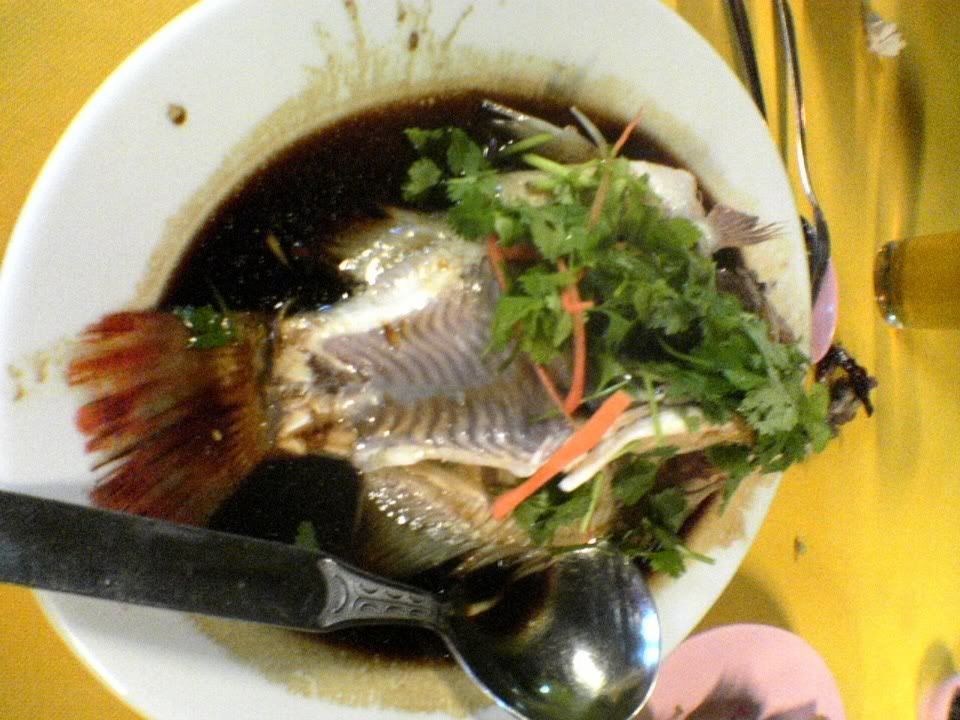 Steam fish...fresh. It was yummy. :D Tasty sauce to go with the fish. :)
The now fried and chopped up Lai Liu Ha [prawns]. Anybody knows the english name for this sea creature? :) It was quite difficult to get to the meat and personally...i didn't really like it. :)
The only non seafood item on the table. Marmite pork...or was it chicken...anyways,it was good. :) tasty. :D *slurp*
After dinner, we went for a much needed walk to walk off all the food we had for dinner. ;) Walked around town and ended up at the WaterFront Esplanade near the Philippines Handicraft market. Travelled by plane for 2 1/2 hours and where did we go for supper...Coffee Beans. Wow..haha. ;) :P It's quite nice actually, supposed to be the happening spot in
Kota Kinabalu
town.
Guess what i saw in Coffee Beans. ;)
Double Take
, but why should i be surprised by this...this is their hometown. :D Of course they'll support their own. :D Read all about them at
alldatJazz.com
, they are playing at Alexis this weekend...so go check them out. :D Seriously good. :)
I had this Blueberry cheese cake for dessert. ;) Yummy...if only they had a StarBucks here. :P
Jonathan had the Chicago cheese cake. With mango or was it lemon..anyways,it's a cheese cake..what's not to like about it. :D
Another view of the
hotel
we were staying in across the road. :) It's not too bad despite it looking abit shabby. :D So that's the end of Day 1. :) Got quite alot done even though we got to
Kota Kinabalu
around 12pm, checked into the hotel, unpacked and finished lunch around 2pm. :)