Buffet for gluttons.
Thanks to
Ethan
and
Valerie
, the Christmas mime and skit team was invited for an appreciation dinner by the couple at
Holiday Villa
, Subang Jaya.
There was quite a big group of us there, think about 20 of us. Ok,so I wasn't part of the mime nor the skit team but
Valerie
had extra seats and I did help a little so I got to go too. ;) :P Thanks alot,
Val
. ;)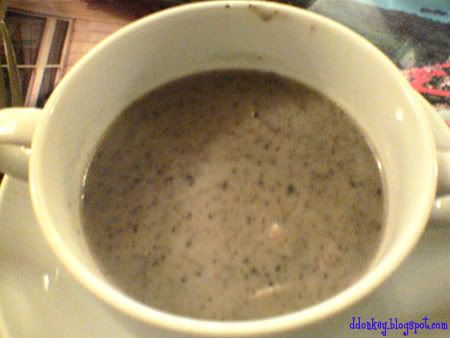 As usual, you'll get the standard soup but I have to say this mushroom soup is quite delicious! :D Kinda skipped the breads though cause I didn't just want to eat bread at a buffet. :D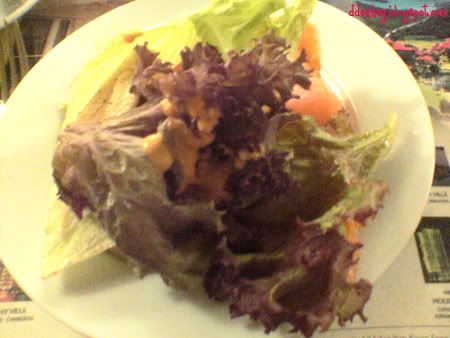 Then you have your salad bar, salmon and sushi. :P The salmon was really yummy! ;) Hidden underneath the fresh greens. Simple items to start off the glutton fest. ;)
The oysters I skipped cause I can't stand the smell, even with loads of lemon and
tabasco
sauce. *ugh* Serious puke-generator! :P But the salmon was really good so I stuffed myself silly with the salmon instead. ;)
Moving on, I tried most of their meat items, [clockwise : beef, fish, lamb]. The beef was a little overdone but the lamb leg was good. Maybe not as good as the one that
Lay Yan
at
Bumbu Bali
but good enough.
Then it was seafood. :D [clockwise:greens, rendang crab, green curry prawns]. Maybe crabs in 'rendang' style isn't really that a great idea but the green curry prawns was nice. :) Not too spicy, just nice. *yum* *yum* :P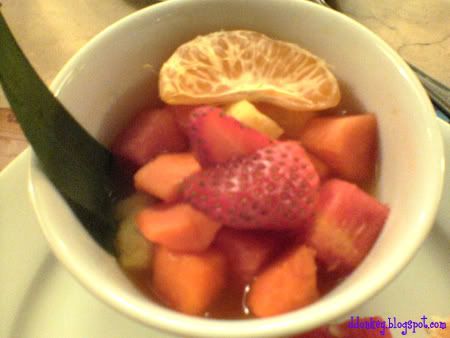 Ok, so there are more stuffs on the table but I didn't dare to take photos, just in-case they chase me out before I could even start eating. ;) There was a booth making pasta and a booth for malaysian style noodles, rice, chicken,
tempoyak[fermented durian]
, bread and the usual malaysian fare. So after my meat and seafood craze, fruits was a wonderful remedy for all the meat and stuffs! :P Too bad the strawberries were sour and the whole mixed fruit thing wasn't really that sweet. Can skip this if you do go for the buffet at
Holiday Villa
's coffee house.
Wow, good presentation. :D Now if only they had provided a chocolate fountain to go with those fruits-on-sticks. :P
The cake was really wonderful! :P But at this point, I was pretty stuffed and that was all that I could take in. ;) The orange jelly on the left and the orange creme brule was ok. Too much oranges for me in one sitting though. :D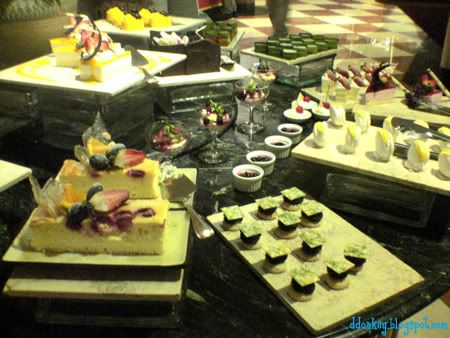 Managed to sneak a shot of the dessert table. :P They really should have the chocolate fountain thing going! ;)
So the night ended with the twins, Daniel and Danny telling us jokes about what happened in school to them and their friends with us laughing loudly with coffee and tea to end the night. Man, my stomach still hurt from all that laughing! :P See if you can tell them apart, the older is Daniel and the younger, Danny. It was a fun and stomach-filling night of good food and great company. :) I think we made quite a racket with all the laughing and the twins standing up and doing their acts. :P