Happy Chinese New Year!
As usual and as any chinese family, we have the chinese new year's eve dinner. The roads were so clear and free of traffic, not like the usual peak-hour traffic jams. Man, I love holidays like these. :P Travelling from SS2 to Mutiara Damansara was a breeze! Unlike during Christmas eve and the roads were jam packed with people going everywhere but staying at home. ;) I was trying to get to my parents' place for dinner, not going out to party! :P Anyways, dinner was quite early because my grandmother's dinner time is usually around 6pm. So as children and grandchildren, we have to eat at that time.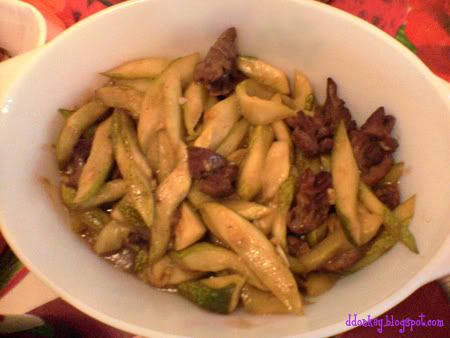 Pretty basic and usual Chinese New Year [CNY]'s eve dinner dishes. Don't know what this is called but its just cucumber with chicken gizzards and livers. Love this dish especially when it is wrapped with lettuce. :D
Then chicken, one of the many 'must-have' dishes in any special chinese occasion meals. Love it when it's cooked with wine and herbs. :) Yummy!
With chicken then there is duck. :) Don't really fancy duck as much because of the extra chewing involved. ;) :P Still, it's all good! :D
Ahhh,pork. :P Fattening as ever! Man,after this I really have to get back to some form of exercise...any type of exercise! :P
Prawns...with garlic and asparagus. I think this dish is suppose to be eaten on the 1st day of CNY but it doesn't really matter when you have it, I guess. :)
How could it be considered as a chinese meal if there wasn't any soup. :) *yum* *yum* Good stuff! I wonder what other dishes will I have this CNY. :) It's great to be living here in Malaysia huh, loads of good food, every time and anywhere.. :) I just hope when my family goes for our annual big family trip, we'll be having more good food! :P This time the whole family, including my grandmother and my mom's siblings are going over to
Lumut
for 3 days. I really hope I can get connected there. I seriously have no idea what can you actually do in
Lumut
! Any ideas?? :P Oh well, have a great holiday, people. :) I will be coming around to collect my
'angpows'
soon, so get them ready! :P So let the fireworks and the feasting begin! ;) Happy chinese new year. May the new year bring you more happiness and blessing.