Steamboat in Puchong.
Went over to Puchong again for dinner. :) I love the evenings in the beginning of the year. The days seem longer and the sky filled with nice clouds and not haze. :D It was kinda raining today though but the view from James and Christina's place was just wonderful! Nice breeze blowing and the sunset on the horizon. I have to say that the location of their house is really good! :D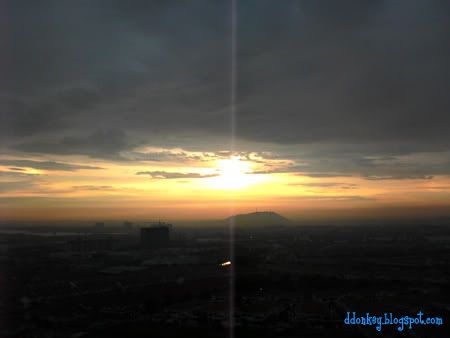 Ok,so my
s700i
didn't do a very good job at capturing the beauty of this sunset but you get what I mean. :P
From the hill, you could see clouds on the horizon. Maybe the rain clouds kinda spoilt it but trust me, on a sunny evening...it's really lovely. :D I think it'll be PJ's version of the 'Little Genting' near Pandan Indah. You could see quite a lot of couples going up there near midnight but because there's a guardhouse at the entrance, they could only hang out near the middle of the hill, a pretty decent view but can't be compared to where James and Christina's place is. :)
So we finally gave this BB Ho Steamboat restaurant near their place a try. It seems that they originate from a famous restaurant in Klang. Everytime we pass this restaurant, it's always filled with customers so we were quite intrigued...wondering if the food there is really that good. ;) Looks like they provide quite a lot of good food, doesn't it?
There was 7 of us and they did provide a lot of food. Mostly vegetables which was placed beneath the small amount of meat. At least the chilli that they had was really good. I was kinda surprised that they did not offer tom yam soup, only clear soup.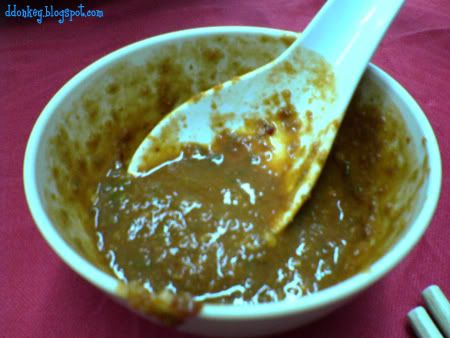 I'm sorry that the chilli looks a little gross but before I could even take a photo of it, they have already stormed it. :P It is really good. :) Personally, when having steamboat...the chilli sauce has to be really good else the whole meal will be a little lacking.
Here's a shot of the food cooking but
'somebody'
said I should take a photo without the lid. *bleh* ;) Smarty-pants. This shot is pretty good, what. :)
It seems that other than the chilli, the fishballs here are suppose to be really good, which i have to agree. They are one of the few really good fishballs that I've tasted. But because they gave quite a small portion of meat and loads of vegetables, eggs and noodles...the RM12 per person isn't that a good deal. I think the steamboat restaurants in Bandar Menjalara is much better but then there's all that travelling to get there. :)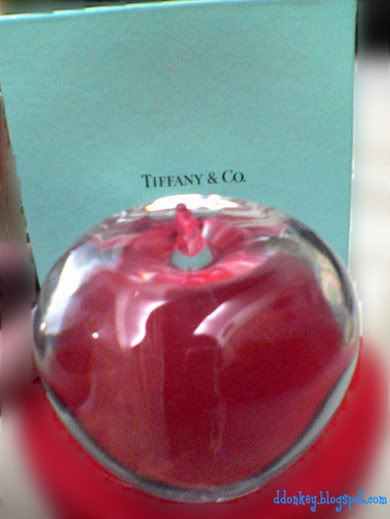 So after dinner, we went back to James and Christina's place for a short movie. :P
Corpse Bride
is one movie that you should not miss. If you have not watched it, go check it out...it's really interesting. Another well done stop-motion film. :) Last week, we watched
Wallace and Gromit
, another stop-motion movie but from England. :) We were waiting for midnight for the fireworks but I think everybody has finished up all their supply before Chinese New Year even ended so there wasn't any fireworks...from where we were anyway. ;) Oh well, it was good fun watching the movie. Oh yeah, this little glass apple is from
Tiffany's
which Christina got it after watching some Korean soap-opera, I think. It looks really good...now I'm kinda torn between
TOUS
and
Tiffany's
. Both have really good designs. :P