And it has come to pass, I'm now 24.
Yeah, another has passed and I'm a year older with no progress on getting my own private island. Where are my sponsors? So anyways, it was a simple birthday for me. Just me and a couple of close friends sharing a pizza, some pastas and a salad at Pizza Uno,CenterPoint.
It was ok but not the best since I love the pizzas over at Alexis Bistro, Great Eastern Mall so much. Roy, what do you put in those pizzas? :D
The pasta was quite interesting but this one wasn't that great. A little too light on the white wine sauce.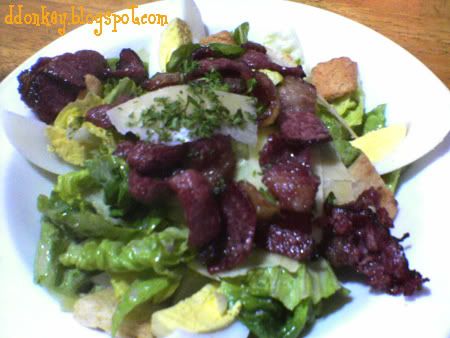 Now if they had added pork bacon instead of beef bacon to this caesar salad, I would have been a happy camper but oh well, this is Malaysia. :D
Thanks to me best buddies, I got a pair of cufflings, which I needed to buy eventually from Raoul but these from TopMan is more than enough. :D Thanks a lot! I really like it.
And the guys over at Bangkok Jazz was just fantastic lar. Went over there on Saturday thinking that it was just a regular gig with
Farid Ali, Eric, Fly, John, Bada and special guest Chie Hanawa
. Those jokers pulled a fast one on me by telling the crowd that it was my birthday and getting me to go to the front of the stage to present me with a cake and a birthday song. Damn malu. Paiseh betul lar, the crowd came to see the band perform and had to endure looking at me blushing and smiling. But thanks guys! It was great, really appreciate the gesture! :D All thanks for KS and Elyna lar...banyak pandai. :P I guess it's not too bad turning 24.