The Brasserie at Regent Hotel.
Thanks to a friend of mine, a bunch of us went to
Regent Hotel
's
The Brasserie
in Bukit Bintang for dinner. It was heavy traffic in Petaling Jaya around 5pm because of the freak downpour which flooded quite a few roads and it took me a while to get home from a meeting at Sirius where I got soaked just trying to get to my car. Thinking that it'll be a big drag just to get downtown during rush hour, I was hesitant but I guess its the company for the evening that matters so I drove out anyway. I really pity the people that was trying to get out of KL because...well, I think this photo here says it all. :)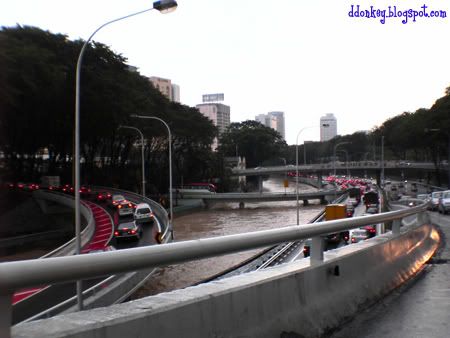 See how high the water level was in the photo and also the jam packed road, filled with cars trying to get out of the city centre. Thank goodness, it was a drizzle when I took this photo instead of a heavy downpour else KL will be like Kelantan.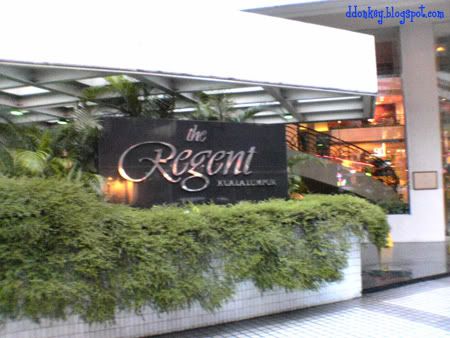 So dinner at 7pm was not going to happen as planned but I got there earlier than the rest nonetheless, but there was a friend that got there earlier than me so we just hanged out at the lobby, catching up. :)
The rest got there around 8pm and dinner began. :P What a relief! I didn't have time for lunch today and I was already starving byu 7pm. :P
The layout of the buffet line was really nice, accessible and I couldn't decide where to start! :P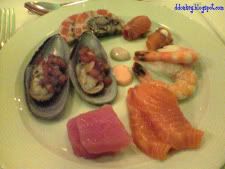 So I picked up some salmon, tuna, prawns, some salmon wrapped with beef and some oysters which I though was cooked but apparently not. Not a big fan of oysters. Can't take the smell and the texture! *BLEH* :P But the rest was pretty good. :)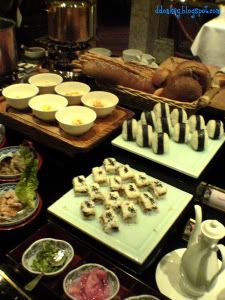 They had a vast variety of dishes, different cuisines on the menu to choose from. It was a feast for the eyes as well as for my stomach. :P
There were also some tapas stuffs to choose from like cheese with tomato, beef, fish and also tempura which was kind of the wrong combination but I just couldn't resist. :P I love tempura! ;)
I did find this quite interesting. :) Never was I served ice lemon tea in this manner. :D Yummy. If I only knew that the soft drinks were free-flow...I wouldn't have wasted my time with the ice lemon tea. ;)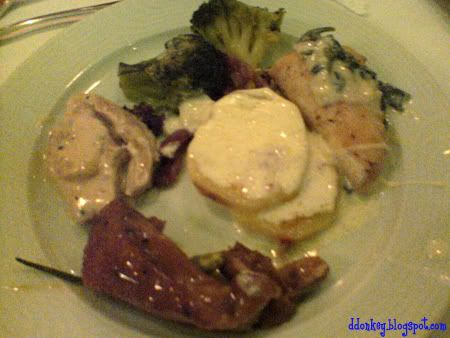 So after all the starters, it was quite tough to plan out my main course. :P So I just took whatever I fancied. Duck in orange sauce, chicken, some greens, potatos and snowfish in cream sauce. The snowfish was absolutely amazing! I could just spend the whole night just having that alone! :D Delicious! The duck and chicken was good too but a little to common for my taste. :P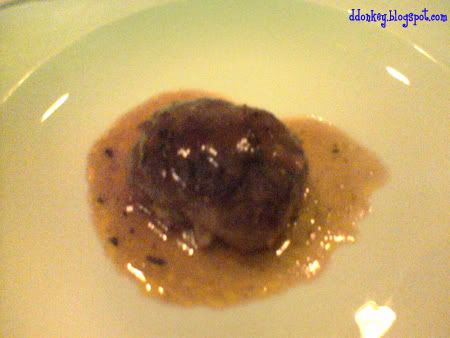 This was quite interesting beef stuffed with cheese. A little filling but quite interesting. :)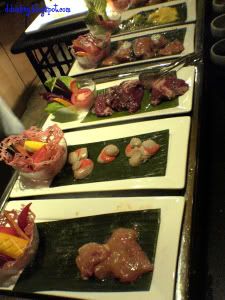 On to the grill section. :P They had quite a selection of meat to choose from and I decided that it might be difficult for me to pick so I asked the chef to give me one of each item that's available. ;) He must have thought that I was a big
'kiasu'
fella. :P Oh well, it's a RM 65++ buffet dinner...and since I've not been here before, I shall try EVERYTHING. :P
So there it is, squid, beef, lamb, snowfish, salmon, chicken and erm...scallops. :) It was good! ;) More of the beef, lamb and snowfish, the rest was common. :)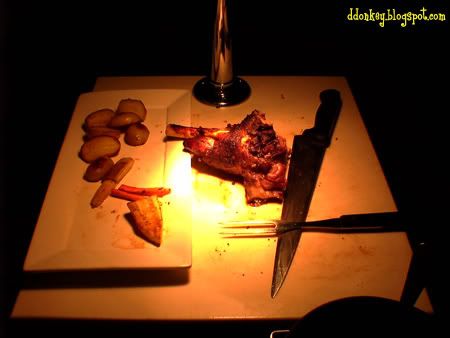 The lamb was already done, sitting there waiting for people to come order it. :D It was delicious! ;) A little dab of mint sauce and mouth-watering! :P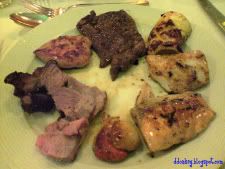 Another look at the meat from the grill...all laid out nicely to be consumed by me... :P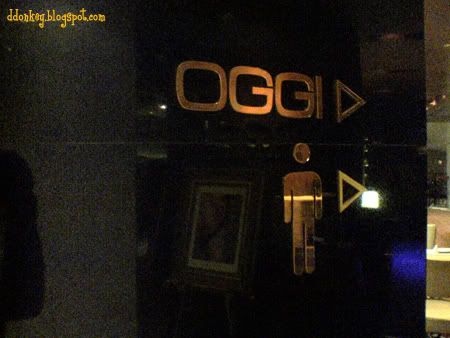 After dinner, my friend's uncle who is the art director at
Regent Hotel
took us on a little tour of the hotel. :) What a privilege it was. We got to tour the newly renovated
Oggi
that's fitted with artworks done by my friend's uncle. It was a lovely place, recommended for a lovely evening spent with your loved ones. :)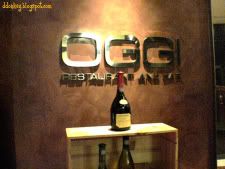 Filled with artwork, a bar that changes color, drapes and curtains. A wonderful place and the food is great, so I've heard. ;) So go check it out and remember to bring me along. :P Even their business card is well-done. Good concept. :)
We were also brought up to the 18th floor to check out the 'The Executive Club' which used to be a hang-out place for the Sultan of Brunie...that's what was told to me. :) The view from the club was just fantastic but it'll cost you quite a bit just to get in. ;) Because to get in, you'll have to be a guest staying in the 17th to 19th floor and a room might cost around RM 483 per person. :) So it was a privilege to be able to get in to just take a look...and that's one of the reasons why I didn't take any photos cause it would have been rude to do so. :D
So it was a wonderful evening with good food and good company. Spent the evening catching up with one another...just lovely despite the traffic jam and heavy rain. And I didn't realise that
Traxx FM
bought an advertisment space on a barrier in a parking lot next to the
Regent Hotel
. :) Interesting, at least it's working cause it caught my eye. ;)