I'm being evicted from my own home.
Yes, my mom has given me less than one week to get my stuffs out of the apartment because my brother's 2 friends are renting my room and my sister's room while he takes the master bedroom. If I only had though of doing that earlier, I wouldn't have to go through the hassle of packing my stuffs and moving. Sigh. Now I have to leave the comfort of my lovely room and my view to
Mutiara Damansara
, the always a-huge-pain-to-get-out-of place. So long room. So long view. I'm gonna miss the little time I had spent sitting in my room and switching off the lights and having some good jazz tunes playing on my powerbook while I look out of my window towards SS2, PJ and Subang. I wonder when can I move back to my comfy room.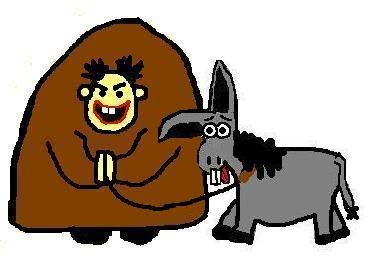 Picture taken from
FudgeMonster
. The sort-of-wild and free donkey is now being dragged back into its cage. Why didn't I think of getting some friends to rent the rooms in the first place?!?! Craps!