This year's last PotBless before Christmas.
Ah the once every 5th Sunday Potbless has now reach the end since In July, we'll be starting the 2nd Service where there'll be 2 services on Sunday instead of just one. First service starts at 8am and second service will start at 10am following which will be Children's Church and SCG [School for Christian Growth]. Exciting times ahead since most of us will be moving away from our own comfort zones. :)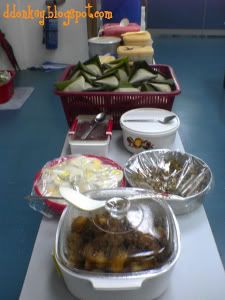 Since I was too busy eating, I could only get photos of before the feasting began. :P And before the feasting began, the kids had a lot of fun playings games.
Our pastor's kid, Joel here volunteered to be dressed up as a soldier. So willing he was that he stood really still until the end of it all. :)
Then there's cute lil' Chris on the girls' side. :) I guess dressing up soldiers aren't a girl's thing. :P Anyways, since boys that age are not into girls that much, Joel was very ready to fight Chris with the paper-made weapons with the other boys cheering him on. haha. Really funny sight. :) Who knows, he might just be the first of the lot to fall in love. haha. :D
As you can see, the boy is all ready to start but the cute little girl is just waiting patiently to strike later. :P haha.
After lunch, the boys though of using the fan to keep the balloons in the air and to make a competition out of everything, they got another balloon and see which one will stay in air the longest will be the winner. :)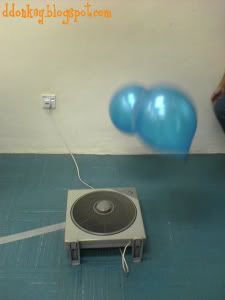 Now if we can get one of those huge industrial fans, that'll be even more fun. haha. :D
Loads of budding Picassos and Michaelangelos in Children's Church. ;) So that's a tree on a ridge with the church flying to heaven held by invisible angels and that's the roaring sea next to the ridge with the sun, clouds and birds in the air. :) That's the explanation that I got from the kids...Good enough for me. :P