Another interview with the Grammy winning Branford Marsalis.
I just wanna send a big thank you the good people at
Jazz Selecta
's
TraxxFM
, Jezza, Maya & Pn. Norbaiyah for inviting us to join in the interview with
Branford Marsalis
just before he leaves KL.
It was a very interesting experience to be watching the interview and knowing that it'll be on radio on Tuesday. :) Good stuff, and it was definitely great for me cause I've learnt so much more stuffs about jazz. :D What a great experience. :) Was suppose to bring him out for a night out in town but because he had a long day, he wasn't up for it hence he went back to the hotel and Jezza, Eugene, Pn.Norbaiyah went for dinner at the Pantai Dalam area. Maya had to work cause she's on the
Rock It Show
on
TraxxFm
every Thursday and Friday with Navsta.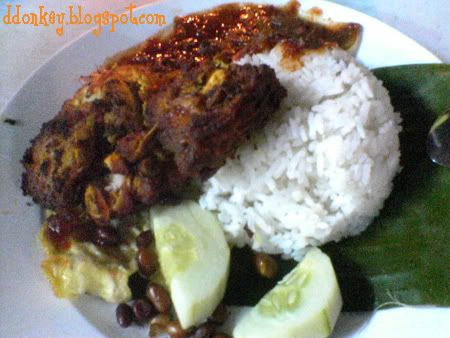 Anyways, we swung over to look for some
Nasi Lemak Rindu
, which is the one that I've been looking for since a while back, after reading
FriedChillies
recommending it. :) Now I finally got the chance to try it. The sambal is pretty good and the nasi is hot and tasty but the chicken, could have been better. :) The chicken I had at Bangsar with the guys on
Tuesday
was better. But at least now I can say that I've tried Nasi Lemak Rindu and I do kinda 'rindu' [miss] it already. ;) Had 2 servings of nasi lemak for late dinner/supper after the interview that was suppose to start at 8pm but ended up starting at 9pm. So tune in next Tuesday on
TraxxFm
's
Jazz Selecta
to listen to Branford's interview. :) More information available on
alldatJazz.com
.