Movie marathon.
Happy new year to all! :) I think this year's celebration was a little quiet...compared to last year when I spent new year in Bali. :D Man,i miss that place. Miss the friends that I've met there, wonder when can I go back there. :D Anyways, this year's celebration was spent at James and Christina's place with food and movies. :) Supposed to have went for a camping trip but more on that later. :) So there's was like 10 of us at their new place in Puchong and their new home theater system. :) Thank goodness they have no neighbours yet, cause we had the sound up really loud. ;)
Cute huh? :) They got it when they were in US before Christmas. The reindeer heads move side to side. Really funny and cute at the same time. haha. :)
We had quite a lot of food but i love this more than the rest. :P Duck from Loong Foong in Paramount, really delicious. ;)
Then there was dessert. :P Yummy reese's miniatures which can't be found here. I just love the peanut butter in them and in bite size now. :P
Then there were japanese sweets that they bought during their stop-over at Narita airport.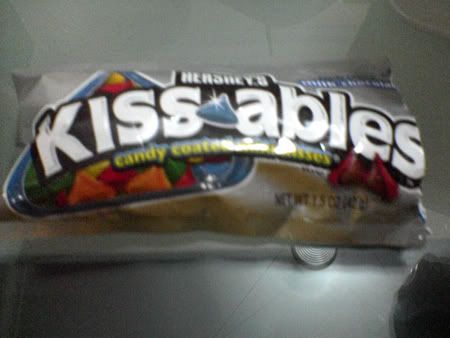 Haven't seen these before but it's just delicious. :) Like M&M's but better I guess. :D It's Hershey's! :P So with all that and more for dessert, we managed to watch
The Phantom of the Opera
and
Kungfu Hustle
. I really enjoyed
The Phantom of the Opera
...it was really good...now if someone would be so kind as to send me to New York to watch the Broadway version of it...that'll be really great! :P