The wedding.
The whole of Saturday was packed with the wedding stuffs. From 7.30am til 11pm, thankfully I had time in the afternoon to go home and take a bath before the wedding and the dinner after...but I guess that's pretty normal for a wedding. Congratulations, Eugene and Ginie...and erm,welcome to the family! Muahahaha. :P As you can see from the photo, you would have guessed who are the pretty couple that was getting married. Taken just as they got back to the groom's house for the groom's side tea ceremony. Hmmm,angpow. haha. :P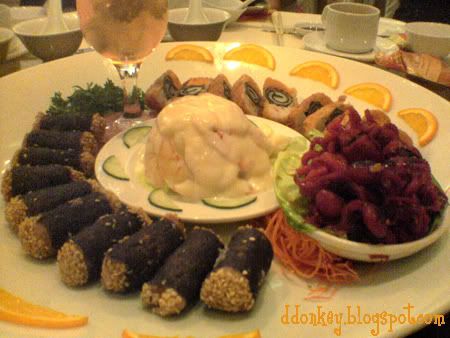 So after the wedding and all, the dinner started on Malaysian time. An hour late. :) The food overall wasn't really that bad but not that good either...oh well. :)
And I thought shark's fin soup was something that was banned already. Interesting enough, they have plenty of it during this dinner. :) Almost 40 bowls of it. Poor sharks.
Chicken with sesame seeds. :) Pretty dry but still good. :P Man,I'm starting be feel hungry all over again. :D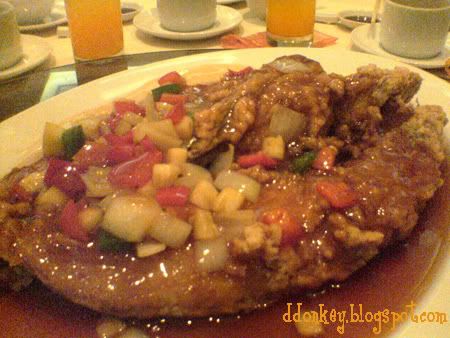 And of course, what's a chinese dinner without any fish. :) *yum* *yum*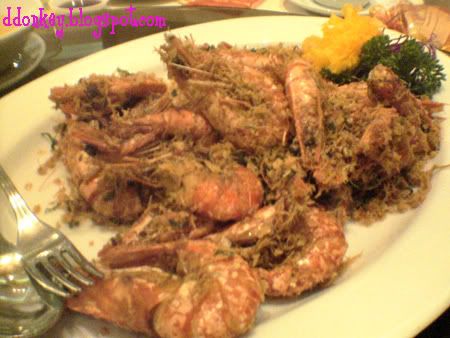 Man,they should peel the prawns for us...this dish is always difficult to eat while trying to look presentable and not like some barbarian. :P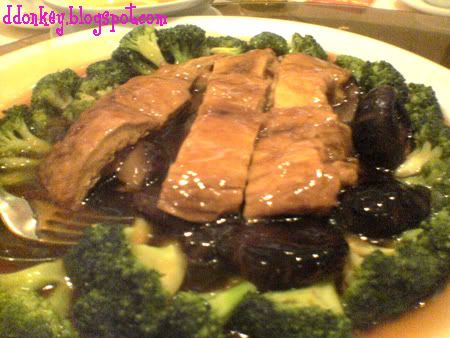 Simple vegetables but with huge mushrooms. :)
This is a nice change from the usual fried rice. :) Didn't try it though, I was already stuffed after having the fish and the prawns. So I didn't even bother with the dessert which by the way lacked the chinese sweet pancakes! What a no-no! You cannot leave that dessert out. That's good stuff! :P