Atlantis on a plate.
Finally got to quench my curiosity of
Pizza Hut
's new Atlantis stuffed crust pizza.
'Imagine tempura prawns with grilled eggplants! Coupled with italian herb sauce, tuna, onions, tomatoes, and mozarella cheese in a crust coated with parmesan cheese'
That's written on their website. Man,what a load of crap. :P I should have known not to order it...I mean, at least
Dominos
is a better fast food delivery type pizza compared to
Pizza Hut
. What the heck was I thinking? :P
Here's a look at the
Atlantis stuffed crust pizza
. I really love eggplants [brinjals] and prawns but even though it was on the pizza, I still did not like it. *UGH*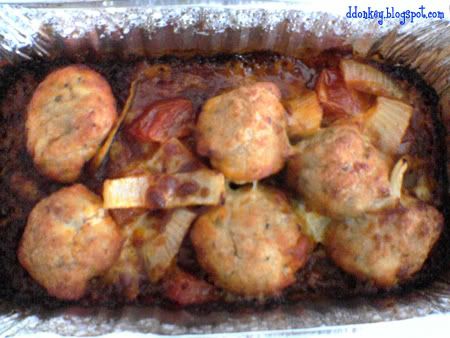 And as though that wasn't enough, I ordered the
'Add-On D'
that comes with a garlic bread and a cheese baked meatballs in spicy masala sauce. Bad choice!! I think ordering this pizza was mainly because I though
Pizza Hut
would have gotten their act together but I was wrong. ;) It's a lot like drinking a
7-11 slurpee
, first few sips, you're happy you had it but when you accidentally take a large sip and brain-freeze. *OUCH* So you tell yourself... 'ok, no more of this.' Time passed and you thought, 'Hey, maybe they've improved the slurpee...I should give it a try again.' Guess what, brain-freeze again. :) Moral of the story, if you got burned the first time, it's very likely you'll get burned the second time. ;) Don't get burned.