Barbecue with a view.
It seems that
'BarbeQue'
is a common mispelling of
'Barbecue'
....well, according to the dictionary available on my mac. ;) Anyways, was over at James & Christina's place again for a little barbecue dinner on the hill. :) Thank God, it wasn't raining and a little breeze was going. :D Ok,it did rain but it was almost time for us to call it a day when it did pour. :) So everything worked out just fine. :)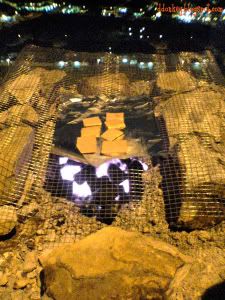 Started the night with some luncheon meat. ;) Yummy. :P The foil could have been a bad idea but it was useful...for a little while. :)
Another look at the luncheon meat cooking with a lovely night view of Puchong and erm...Subang, I think. :D
So Shane, Ching Choo, Nelson & Yvonne was there to stuff ourselves with food while the mosquitos fed on our blood through our legs. :P I think a lot of cars that drove by was wondering what the heck were we doing out there. :P
James and Shane built the barbecue pit on Saturday night and had time to fix up a small table as well. :) Wasn't strong enough to be used properly though...i think. ;)
We had a lot of food for 7 people actually. :P Fried rice, chicken wings, sausages, fishballs, luncheon meat, bread, garlic butter spread, apple crumble and ice-cream. ;) Oh, pinapples, and capsicums as well. Delicious!
I like this photo the most, maybe it's because of the view behind the barbecue pit, either that it's because there's more food on this photo than the rest. haha. :D