I miss Miri!
Sigh, I miss Miri already and it's only 3 days ago that I left Miri. Maybe it's mostly because of the new friends that I've made there. Friends that when we are together, we annoy quite a lot of people around us. haha. :D Uptight people that cannot take things lightly. Ok,so it was my fault for knocking on the back of the chair while we were flying back but no need to smack my friend's leg and say 'stop it'. Whatever, let's not go there. Moving on with the photos. I took loads of photos so I just have to randomly pick them out to show to people how Miri is cool and a fun place to visit.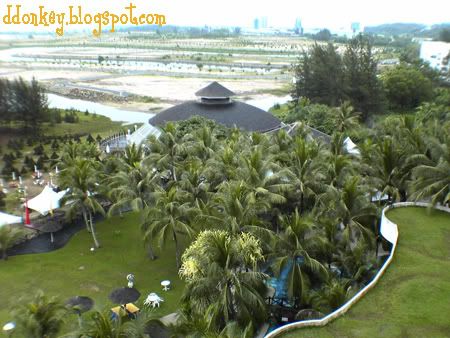 Here's a view of the venue of MIJF 2006 from my room on the executive floor. :D Thank you very much
Sarawak Tourism Board
for letting me stay on the 7th floor. ;) I had a great time. :P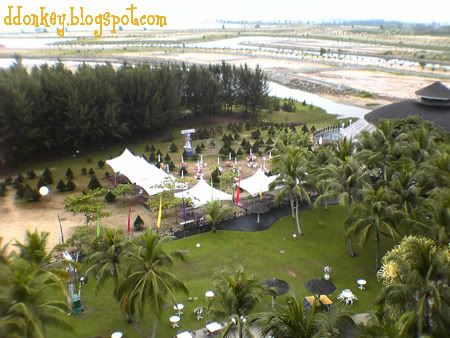 And right next to the pavillion is the open area where you can get food and gifts and stuffs.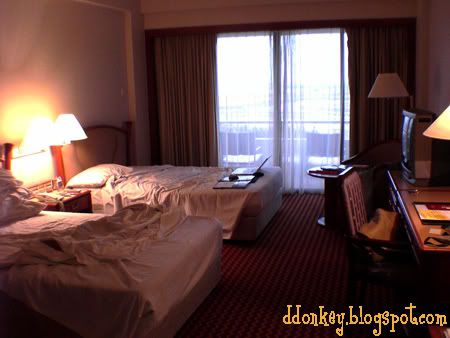 Then of course there's a view of my room. :D I love it. haha. :)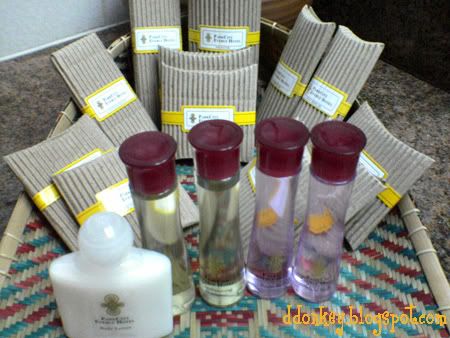 With loads of free stuffs stocked up in the bathroom.
And fresh fruits at my disposal. :) Didn't get a chance to finish but I would have loved to try out the
'buah salak'
or snake-skin fruit. Doesn't it look interesting. :)
Not to mention the unlimited cookies that we can get only on the executive floor. :D Delicious! haha. :) I'm so happy I was on the 7th floor. Hopefully I'll get to stay on the 7th floor again next year...well,if I get to go back for MIJF 2007 that is. :)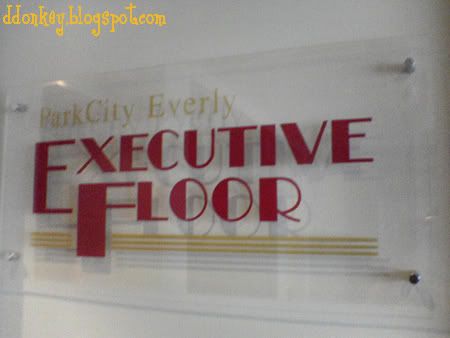 Fantastic experience and not forgetting the free unlimited wi-fi usage from the comfort of my room. :D
Nice seaview from my room too even though they were in the midst of reclaiming some land.
I love this idea of having special water bottles with the MIJF logo on it and also the bag for us to hold stuffs in. :)
Did you know that Oceean Twelve is very big in Miri? :P So big that they used it to introduce their seafood buffet. :) I wonder if
Steven Soderbergh
would be asking for money with the use of the film title. :P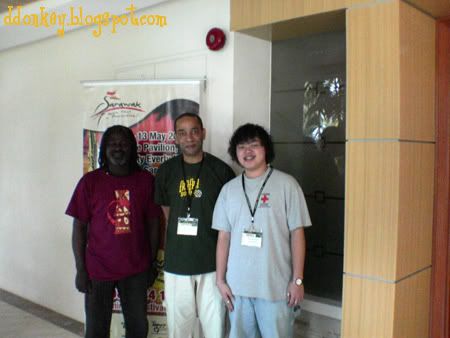 Here's a photo of me with Vincent and Carlo of
Fra Fra Sound
if I'm not mistaken, just after the press conference. Vincent is just full of information and he's so willing to share it with people who are interested. :) It was great talking to him!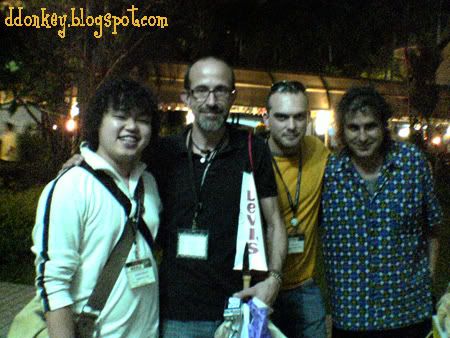 And not forgetting the horn section for Lluis Coloma just before the show started on the 2nd night. :) They were just fantastic! Really tight group.
So during the afternoons before the festival started, the press/media was brought to see Miri and I have to say this is quite funny. :) On sale in Miri's Imperial Mall or something like that. :) Pork-You-Ball? hahaha.. :P Ok,so maybe you don't find it funny but I do..haha. :D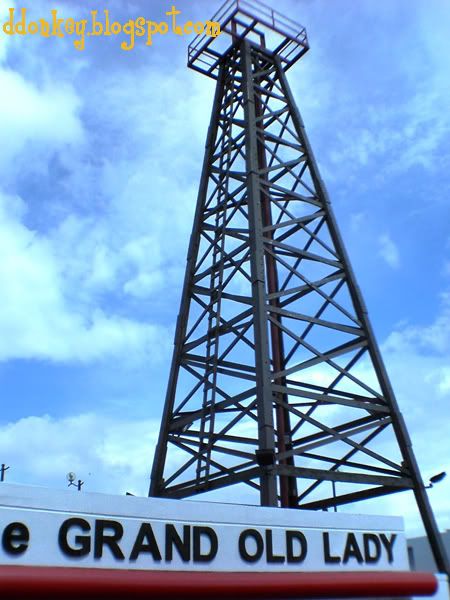 Did the whole tourist thing and went to the the first oilrig in Miri or was it in Malaysia...but anyways, the
Grand Old Lady
on Canada Hill was pretty good looking for her age. ;)
Then there was the City Fan. See why it's called the City Fan? The whole area is designed to look like a fan...if you were looking at it from an aerial view. From the ground, it looks like any other park but it was really clean. I have to say that the municipal council here did a very good job, unlike PJ's or KL's where all the money that could have been used to clean up the place is used for celebration and unnecessary and ugly looking ornaments on the streets.
And their library looks so much better than ours. Plus, it's super easy to get into, which is good for people that want to get into the library...nothing compared to the library here in town. Oh well, what do I know...I never go there anymore since they moved to the new building.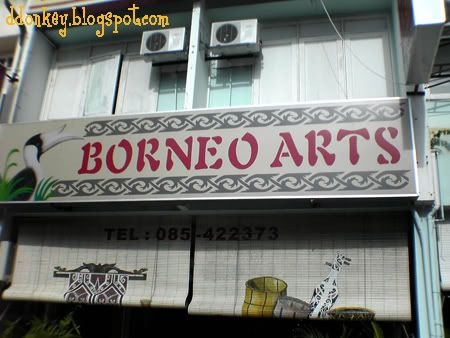 Here's where I helped Miri grow financially. :) Bought quite a lot of gifts from here to bring back. A bunch of pepper sweets and some trinkets. Should have gotten
Queen of the World
the pepper perfume. :P It smells more like pepper spray than a perfume. Just perfect for her. haha. :D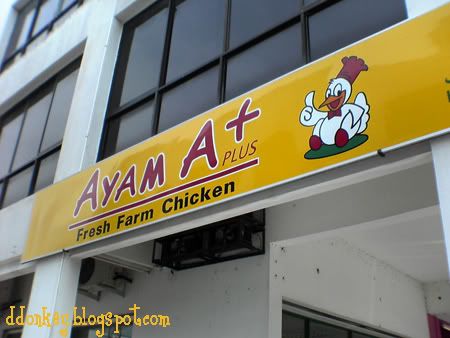 To think, they would be selling A+ chicken to us but I guess we'll just have to check on the quality of our chicken before we purchase them now. :)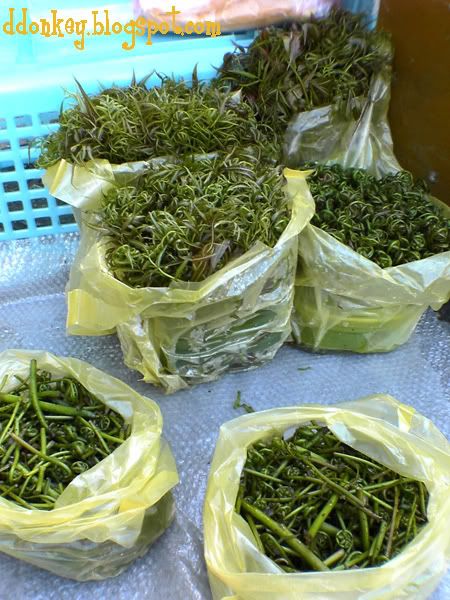 We also checked out the Tamu Muhibbah and saw this interesting looking wild vegetable. :)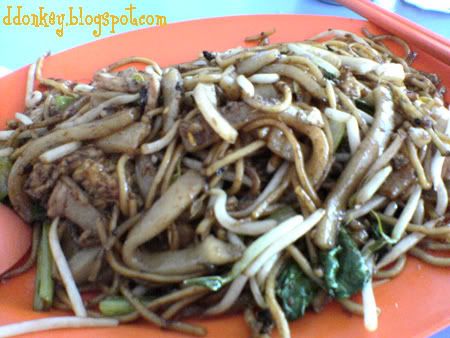 Then yummy delicious noodles at some stall in town next to the Boulevard Mall. The chilli was incredible. :) Didn't manage to take a photo of it cause I was too busy finishing it. :P
And for the finale of the trip...this special tea that looks like the Sarawak flag. :) Beautiful and delicious too. If everything goes well, I should be visiting Miri and Mulu again this coming september. :D I miss my friends. :) When can we meet up again and hear Pang sing loudly and see people stare at us in disbelief? haha. :P